Understanding Massachusetts OUI Laws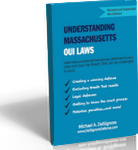 With answers to frequently asked questions surrounding drunk driving charges, you can find the answers you have been looking for in this FREE, downloadable book.
Whether you were arrested for DUI or know someone else who was, Attorney DelSignore wrote this book to help readers gain a better understanding of DUI/ OUI charges so they can make better decisions for their case.
EASY TO UNDERSTAND | FREE TO DOWNLOAD | BASED ON YEARS OF EXPERIENCE

Got questions? Attorney DelSignore has the answers...
Learn how to choose the best lawyer for your case - the questions to ask them and the criteria to base your judgement on
Learn important details about Massachusetts drunk driving laws, many of which you may not know- did you know you only have 15 days to appeal a breathalyzer refusal license suspension?
The 8 clues a police officer is trained to look for during the nine step walk and turn.
Common ways to exclude the breathalyzer test from evidence in your case.
Defenses to OUI roadblock arrests...and more!
Why trust Attorney DelSignore?
Quoted in Lawyers Weekly USA on breath testing expertise
TOP RATING OF 10 OUT OF 10 BY AVVO.COM
Received AVVO Client Choice Award
Listed in Super Lawyers and Boston Magazine among Top OUI Lawyers
Recognized as Top Trial Lawyer by National Trial Lawyers Recently contributed the first chapter to the book Series
Quoted in Boston Herald, Patriot Ledger and Boston Globe
Awarded as Super Lawyer from 2011- present