Stoughton, Massachusetts Slip and Fall Accidents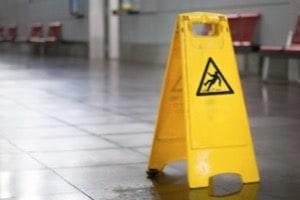 What happens if you slip and fall at a business or store in Stoughton, Massachusetts. What legal rights do you have? At DelSignore Law, we can help you if you slip at Stop N Shop, Target, Shaws or any other food or retail store recover for your injuries.
What do you have to prove to recover money in a slip and fall?
Premise liability is the legal concept that holds a property owner responsible when a person is injured on their property due to unsafe or defective conditions. The most well-known premise liability cases are slip and fall accidents, but such cases also include inadequate building security, elevator and escalator accidents, and dog bites. In Massachusetts, those who own or control real property have a duty to keep it reasonably safe for lawful visitors.
What type of Visitor were you to the Premises?
Massachusetts has recognized 3 types of visitors:
Licensees – People who are visiting the property for social reasons. People who are invited over for social gatherings (friends, acquaintance, etc.) would fall into this category;
Invitees – People who are visiting the property for a business purpose. Customers visiting a store would fall into this category; and
Trespassers – People who do not have a legal right to be on the property. They have not obtained permission from the owner to be there and are therefore on the property illegally.
What is Reasonable Care?
Under Massachusetts law, property owners owe a reasonable duty of care to both licensees and invitees. However, the existence of a duty of reasonable care does not alone constitute negligence. There must also be a breach of that duty by the property owner. As in all negligence cases, premise liability cases require proof that the property owner 1) owed a duty of reasonable care; 2) breached that duty; and 3) the breach of that duty therefore caused a person to be injured.
It is important to note however, that a property owner in not required to maintain their premises free from all hazards, as some may be unforeseeable. On the other hand, if the owner of a property is aware of a hazard on their property, but is unable to eliminate the hazardous condition, they are required to have adequate warning signs to alert their guests of the danger. Lack of these warning signs could leave the property owner liable.
The final group of visitors, trespassers, are treated differently than licensees and invitees, as they are on the property without permission. Unlike legal entrants, trespassers are not owed any duty of reasonable care. Therefore, trespassers cannot prevail under a premise liability claim based on negligence. Trespassers are still owed a minimal duty of care though, and therefore do have a claim if they were injured by a reckless or a willful or wanton act by the property owner. Willful and wanton conduct goes beyond ordinary negligence, and encompass intentional acts or acts that show an intentional disregard for the safety of others.
As mentioned above, one of the most common premise liability claims are slip and fall accidents. This is when someone slips or trips on someone else's property. If you are injured in a slip and fall accident, it is important to know what you have to prove to be successful in your claim.
The first thing that you must prove is that there was a defect on the premises, and this defect caused your fall. An example of this is could be a puddle on the floor of a store. However, proving that there was a defect, and that you were injured as a result of this defect is not enough. You must also prove that the property owner knew or should have known about the defect, and had a chance to remedy it, but failed to do so. It is important to remember that if there is a hazardous condition that could reasonably cause harm to visitors, the property owner has a duty to remove it or put up a warning sign letting visitors know if the dangers. Failure to do so by the property owner would result in liability.
Premise Liability Cases are Complex, but Delsignore Law is Here to Walk You Through the Process:
Premise liability cases often involve complex issues, and it is important to have dedicated attorneys helping you get the compensation you deserve. The attorneys at DelSignore Law will help you to understand your rights, and be with you every step of the way.
If you had a slip and fall accident and are wondering what you next steps might be, visit our website for more information about what you can expect.
Call or Text DelSignore Law at 781-686-5924