Attorney Michael DelSignore
Massachusetts OUI Lawyer and Criminal Defense Attorney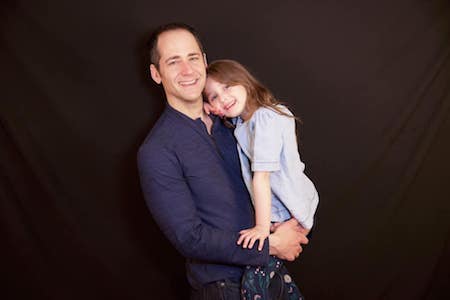 Michael DelSignore has dedicated his law practice to defending those charged with drunk driving in Massachusetts.
Michael DelSignore graduated from University of Connecticut Law School in 2001 with honorary distinction. He is an active member of the National College of DUI Defense and National Association of Criminal Defense Lawyers. He regularly attends and contributes to criminal defense seminars throughout the country.
Attorney DelSignore has one daughter, Mazie, and when not at work you can find them frequenting the aquarium, children's museum, and going swimming. He currently resides in Stoughton.
In addition to having a heavy schedule of DUI trials, Attorney DelSignore actively attempts to educate the public and other lawyers regarding Massachusetts drunk driving laws.
Attorney DelSignore's typical client wants to fight the case, avoid a DUI conviction/ potential job consequences and preserve their driving record. Many feel they did not deserve to be arrested and are seeking their day in court.
About Me
I grew up in a small Italian neighborhood in Cranston, Rhode Island called Knightsville. My relatives lived close to me, surrounded by family. I lived there through high school; then went to Law School at UConn Law before moving to Massachusetts in my early 20s. I would spend the rest of my life living in various parts of Massachusetts. But it was my early childhood that I think shaped much of my character and who I became both as a person and a lawyer.
One of the characteristics all good lawyers must have, is that they most love to learn and care about people. The law is a unique job because it blends many different skills. A good lawyer must be personal, social, but at the same time intellectual, as many legal arguments depend on an interoperation of case law.
I learned a lot from my father who grew up in the same community that I was raised in. He lived in the home that would become our home from his childhood. His father was originally from Italy and he was greatly influenced by his Uncle who would show him how to fix things and build things. It was a skill that would carry my father through his entire life as he has spent it doing plumbing, construction and anything having to do with fix things.
I would go to work with my father and that was where the idea of a lawyer fist entered my mind. Plumbing is a dirty job; you are in peoples basements, it can be cold in the winter, or extremely hot in the summer. You are always breaking your back as he would put it, carrying in heavy boulders and plumbing equipment. Now, everything is much smaller in size, but at the time, boilers and water heaters were very heavy.
My father is the teaching type, to this day and would try to prepare us for the adult world very soon. Even at a young age, he would be talking to me about what I wanted to do for work. So I thought about it from an early age and at the time thought I knew about what it was like to be a lawyer. I started getting involved in debate and mock trials in high school and enjoyed those activities. In college, I would work for a lawyer and planned to go to law school from the start.
Working for a local lawyer, confirmed my suspicion that the law was for me. What I enjoyed about it was that it combined the personal interaction that I liked from working with my father and thought the years in retail. My first job other than working for my father was at JC Penny; I worked in the catalog department doing the returns. I worked there for about two years, before working in appliances and vacuum and grills at Lechmere. I left Lechmere and moved to Apex, another department store that has since gone out of business. After Apex I worked at Wal-mart which was ironically the highest paying of the retail jobs that was non-commission. My final retail job was Circuit City. When I was working at Circuit city I was actually a lawyer in my first or second year. The pay was very low when I started. It was fortunately I liked the work and never was doing it for the money. I even worked for a brief time when selling alarms with ADP. I have always enjoyed sales and the hard work that people have to make to have a sales career.
I knew I wanted to be a lawyer from a young age. I learned the value of hard work from my father who is and was a plumber. I would go to work with him and see him live his life everyday. The consistency rubbed off on me. Each day he would wake up early and go to work; always having something to accomplish a a project he was passionate about. It was from doing manual labor that I realized that was not for me and my father told me many times, if you do not do well in school, this is where you will be. I began doing better in school as I got older and discovered that there was so much to the law. It is never the same everyday; it requires constant improvement and keeping up with the change. I thought something as complex as the law would keep be interested and I wanted to work with people as well. When I wake up at 5:30 in the morning to start my day, I think of my father doing the same things an how are lives are basically the same, helping people just with different problems.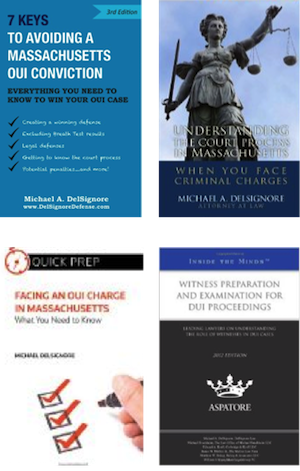 Michael DelSignore has published multiple books that he offers for free. Check out the publications page for a complete listing of his books, along with download links.
He also enjoys contributing to the legal community and has participated in legal seminars and legal publications.
Contributed a Chapter to a National DUI book regarding Cross Examining police, officers in DUI cases published by WestLaw Aspatore Publishing.
Wrote a Chapter in a National DUI book called, Trends in DUI Discovery. The Chapter was on Understanding the Prosecutor's Perspective when Building a DUI Defense.
Attorney DelSignore hosted a seminar in May 2012 which was attended by Attorneys nationwide, dedicated to helping lawyers improve their Opening and Closing Statements.
Attorney DelSignore's accomplishments have been recognized by the legal community:
Attorney DelSignore was featured on Boston Fox 25 News where he discussed the hesitation by police departments across the state to use body cameras.
Attleboro Sun Chronicle published article on Boston Globe investigation in drunk driving cases in Massachusetts.
Massachusetts Lawyers Weekly publishing regarding Sixth Amendment Confrontation- Clause.
Quoted in the Patriot Ledger regarding recent high profile criminal prosecution.
Quoted in Sporting News, the Boston Globe and Boston Herald.
Quoted in Lawyers USA DUI Article on the impact of a recent United States SupremeCourt case on breathalyzer testing.
Selected to Super Lawyers, Rising Star for DUI Defense and listed in the New England
Super Lawyer Magazine that is sent to all lawyers throughout New England.
Listed in Boston Magazine Super Lawyer Edition
Attorney Michael DelSignore speaking at the Vermont Association of Criminal Defense Lawyer's "Defending DUI-Drug Cases" Seminar on October 27, 2017 in Middlebury, VT.
Want to learn more about Attorney DelSignore?

Attorney Michael DelSignore is admitted to practice in all State and Federal Courts in Massachusetts, including the United States Supreme Court.

In addition to appearing regularly in the District Court, he has frequently appeared at the Massachusetts Court of Appeals.

"You want to read this!"

My daughter was arrested for a DUI and failed the breathalyzer. Friends said no attorney could get her off this. Well, they never met Michael- he was brilliant, no other word to describe it. Even the courthouse clerk told my daughter she had a good attorney and that he's a nice guy. Michael - I thank you from the bottom of my heart for giving my daughter another chance with no criminal record.

-Posted by client, Dec 2014
---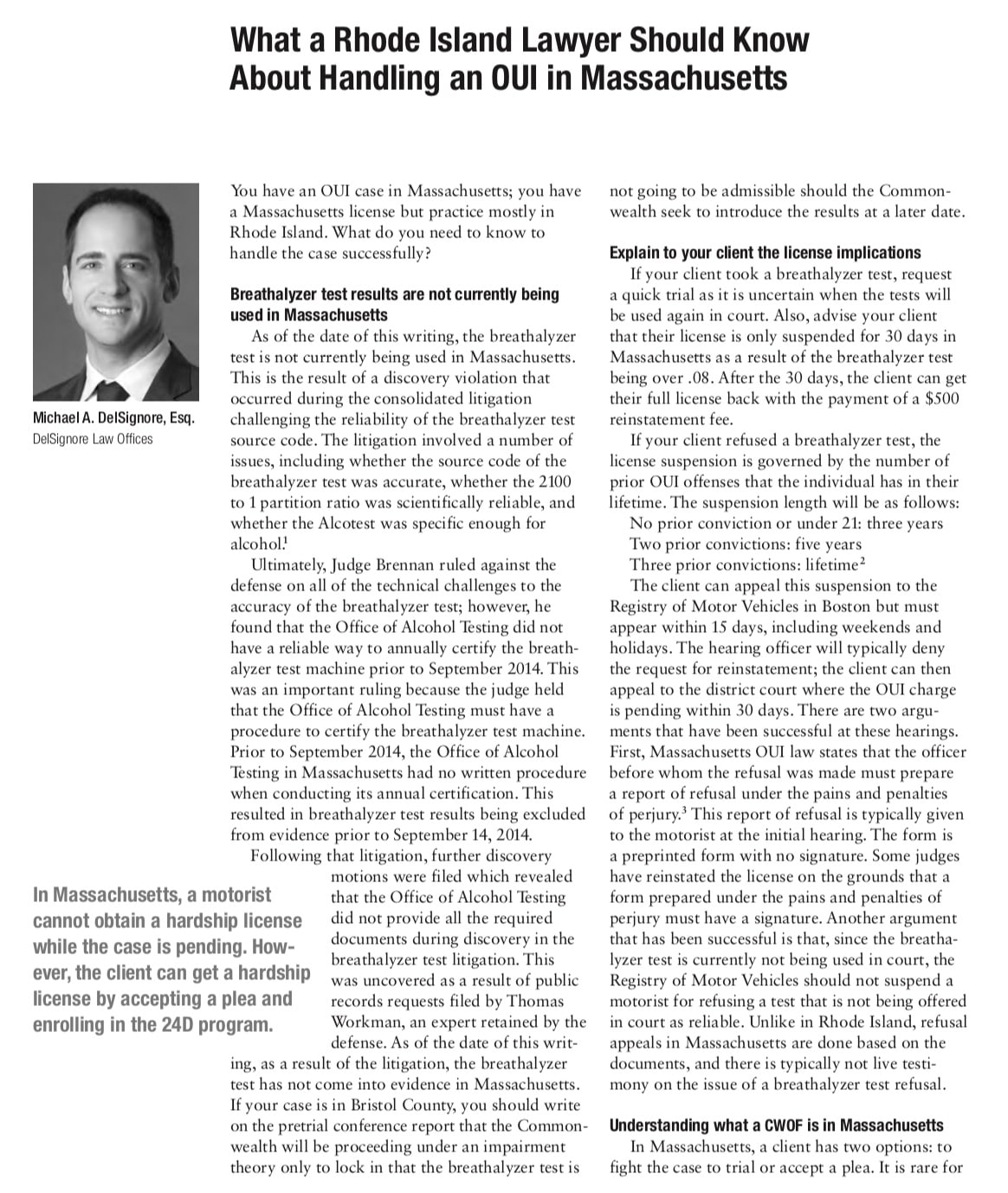 Attorney DelSignore was featured in the well-respected Rhode Island Bar Journal, on how a Rhode Island lawyer should handle a Massachusetts OUI case.