Dudley - Drug Trafficking Lawyer
If you have been arrested for drug trafficking in Dudley, you will want to consider hiring a drug trafficking attorney who has experience dealing with the Massachusetts court system for drug trafficking charges. Specifically, you will need a confident trial lawyer who is able to communicate your theory of defense to the judge or jury.
Prosecutors in Dudley County Massachusetts are cracking down on drug trafficking with multiple individuals being charged with trafficking offenses in 2018. In June of 2018, following the execution of a search warrant by Webster police detectives and members of the Central Massachusetts Law Enforcement Council SWAT team, a Webster man was charged with trafficking cocaine of more than 200 grams, an offense carrying a mandatory minimum penalty of 12 years to 20 years incarceration and a fine of $50,000 to $500,000. In July of 2018, the Dudley Police and the Southern Worcester County Drug and Counter Crime Task Force executed a search warrant at a Dudley address and seized 90 grams of cocaine. Thereafter, four (4) individuals were charged with trafficking in cocaine. In November of 2018, a man was arraigned in Dudley District Court on charges of trafficking 36 grams or more of cocaine, an offense that carries a mandatory penalty of 3 ½ years to 20 years incarceration and a fine of $5,000 to $50,000.
Trafficking in narcotics involves distribution of a large quantity of narcotics. Trafficking charges are based on the type and amount of narcotics and carry substantial minimum jail sentences. All of the defenses to a charge of intent to distribute also apply to a trafficking case. To learn more about defenses available to you, visit our pages: defenses to drug crimes; search and seizure. See also: Frequently Asked Questions Regarding Massachusetts Drug Crimes.
Massachusetts drug crimes often carry substantial penalties and the consequences of having a drug conviction on your criminal record can last a lifetime. Hiring an attorney with experience in drug crimes can be crucial to your defense and ultimately the successful outcome of your case. The attorneys at DelSignore Defense have the experience needed to help you win your case. See below for a few examples of successful case results, while keeping in mind that while your case may sound like the facts of one of these cases, every case is different and I nor any lawyer can guarantee the outcome on any particular case.
Charge: Possession with Intent to Distribute Marijuana
Court: Brockton District Court
Outcome: Brockton District Court-Client charged with possession with intent to distribute marijuana and distribution of marijuana case continued for six months. If the client does not get rearrested in that time the case will be dismissed.
Charge: Possession of Cocaine with Intent to Distribute- school zone
Court: New Bedford District Court
Outcome: Possession with the intent to distribute cocaine and possession with intent in a school zone, charge dismissed after the Court allowed the motion to suppress as there was no probable cause to issue the search warrant under the Fourth Amendment and Article 14.
Charge: Possession of Cocaine with Intent to Distribute in a school zone
Court: Stoughton District Court
Outcome: Possession with the intent to distribute cocaine in a school zone; charge dismissed as court allowed Attorney DelSignore motion to dismiss which argued that the Commonwealth could not prove that the defendant constructively possessed cocaine to provide sufficient evidence to bring the criminal charge against the defendant.
The Dudley District Court is located at 279 West Main St., Dudley, MA 01571. The court hears cases throughout Worcester County, including Charlton, Oxford, Southbridge, Webster, and Sturbridge.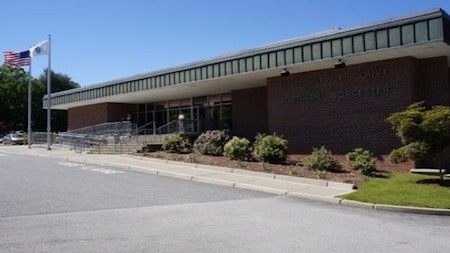 It is crucial to hire an experienced Massachusetts Criminal defense lawyer to handle any Massachusetts drug charge.
Delsignore Law Attorneys Are Here To Help:
Call Attorney DelSignore for a free consultation at 508-455-4755 or 781-686-5924. Michael DelSignore has an office conveniently located in Westborough at 1900 W Park Drive, Westborough, Massachusetts 01581.
You may also learn more about the drug arrest facing your son, daughter or significant by request a Free Copy of Defending a Drug Arrest in Massachusetts by Julie Gaudreau from DelSignore Law.