Stoughton, Massachusetts Car accident Lawyer tips after a Crash
As a local Stoughton Attorney, DelSignore Law can help you with your car accident claim. In this web page,
What you do after a car accident is critical. If you were injured in the accident you could be dealing with medical bills, lost wages, car repairs, pain and suffering and other related issues. Trying to navigate the world of insurance is complicated, but knowing what to say or do after an accident can help you successfully navigate your personal injury and property damage claim.
Below is a guide of what to do and what not to do after an accident:
1. Stop and Check for Injuries
If you have been in a car accident it is important that you immediately pull over to the side of the road when it is safe to do so, and remain calm.
You should then determine whether you have any injuries, and call 911. When calling 911, the dispatcher will need specific information in order to send help to your location. The dispatcher is not interested in who you believe may have caused the accident, but rather knowing whether people have been injured, the number of people who are injured, and whether police, fire and/or medic are needed at the scene. The dispatcher will need to know your location, as well as a description of the accident scene. It is important to be as precise as possible when giving this information. Look for street signs, highway markers or any other landmarks that could assist the police and paramedics to locate you as quickly as possible.
2. Accept Medical Treatment
It is impossible to know the exact extent of your injuries immediately after an accident. This is why it is so important to seek immediate medical treatment at the scene of the accident and then follow up with your own doctor as soon as possible after. The effects of your injuries may be masked by the adrenaline of the moment.
3. Start Gathering Evidence
If you have been injured, you will need evidence to support your claim for damages. It is important that before the cars and witnesses leave the scene, that you gather as much information as you can.
When looking at the other vehicle you will want to obtain the make, model, VIN number and license plate of the car. Both parties are required by law to exchange their personal information as well as the registration number of their respective vehicles. You will also want to get the information of any passengers involved in the accident. Pictures or video of the damage to the vehicles or of the accident scene are also very important in helping to document what happened.
Lastly, if there are any witnesses to the accident it is important that you obtain their contact information and any statements of what they witnessed. They may be needed later to verify your account of what happened.
4. File a Massachusetts Crash Report
Massachusetts law requires that any person operating a motor vehicle that was involved in an accident file a crash report if there were any injuries or property damage in excess of $1,000. You can download the form directly from the Massachusetts Department of Transportation website, or request it from any law enforcement agency.
It is important to note that you only have five days to file the report. This is not five business days, but rather five calendar days. Once you have completed the form you must mail a copy to the law enforcement agency having jurisdiction where the crash occurred, your insurance company, and the Registry of Motor Vehicles.
Contact DelSignore Law by phone or text at 781-686-5924 to discuss your Stoughton, Massachusetts Car Accident claim.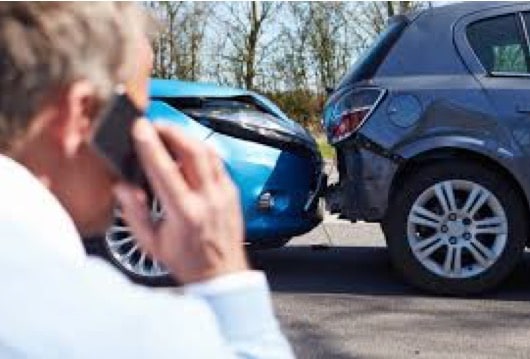 5. Contact a Personal Injury Attorney
It is recommended that you contact a personal injury attorney as soon as possible following an accident. It is important to have someone on your side who can help guide you through the complicated process. Remember insurance companies, even your own insurance company, are businesses and not looking out for your best interest.
6. Notify your Insurance Company
Under most insurance policies, you are required to immediately notify your insurance company after an accident. It is important to remember that there may come a time that you and your insurance company disagree. It is important to stick only to the facts such as the date, time, location and the names and addresses of the parties involved. It is best not to discuss the issue of fault until you have consulted with an attorney.
7. Do not leave the scene
Under no circumstances should you leave the scene of an accident, even a minor one.
8. Do not admit fault or apologize
You are not in the right mindset immediately after the accident, and may say something you don't mean. Let your attorney, the police and the insurance companies investigate the cause of the accident.
9. Do not forget to call the police
It is important to have a formal police report of the accident, which can be useful for your insurance company or in any subsequent personal injury claim or lawsuit.
10. Do not lose your cool
After a car accident, emotions are running high. It is important that you remain calm.
11. Do not speak to the other party's insurance company without a lawyer
Insurance companies are looking to settle your claim as quickly as possible and for as little as possible. They will ask to take a recorded statement about what happened in the accident, and may try to use your statements against you.
12. Do not post anything to social media
The other driver's insurance company can use anything you post against you, and may misconstrue your photos or statements. Even if your profile is set to private, it doesn't mean that your account can't be accessed in the event of a lawsuit.
Contact us at DelSignore Law
It is important that you hire an experienced attorney to assist you with your personal injury claim. At DelSignore Law we will advocate for your position with the insurance company, and help you get the compensation you deserve. Feel free to call or text us at 781-686-5924. At attorney is on standby and is ready to take your call today. To learn more about car accidents and your options after being involved in an accident, read more on our website here.