Wrongful Death Claim lawyer near Stoughton, Massachusetts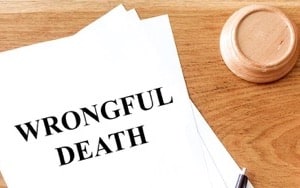 No one wants to think about losing a loved one in a tragic accident; however, it is important to know that in Massachusetts the surviving family members can bring a wrongful death claim against the person they believe to be at fault.
Massachusetts wrongful death statute allows a decedent's estate to bring legal action against a defendant who negligently causes a person's death, or who, "by willful, wanton or reckless act" causes the death of a person under such circumstances that the deceased could have recovered damages for personal injuries if their death had not occurred.
Under the statute, only specific people can recover damages from a wrongful death claim:
The spouse of the decedent, who is entitled to recover all damages if the decedent does not have any children;
The children of the decedent or the lineal descendants of a deceased child; who will also share any recovery with a surviving spouse; and
The next of kin, if there is no surviving spouse, children or other lineal descendants.
There are also specific types of damages that may be recovered in a wrongful death claim:
The value of the income that the decedent could have reasonably been expected to earn during his or her lifetime;
Loss of consortium damages – they are intended to compensate for the loss of the relationship between the decedent and the beneficiaries and include such things as care, companionship, comfort, support, and advice;
Conscious pain and suffering between the time of the injury and the time of death;
Medical expenses; and
Funeral and Burial expenses.
Additionally, if a court finds that the decedent's death was caused by "malicious, willful, wanton or reckless conduct" or gross negligence, punitive damages may also be available. Punitive damages are awarded to punish the wrongdoer, and send a message to similar parties that such behavior will not be tolerated.
These damages are paid in addition to the other damages which are meant to compensate the beneficiaries for their loss.
It is important to note that a wrongful death claim may only be brought by the executor or administrator of the decedent's estate. An executor is a person selected by the decedent in his or her will; where an administrator is selected by the court to be the decedent's personal representative if the will does not select an executor or there is no will.
A law known as a "statute of limitations" sets the deadline for when a wrongful death claim must be filed in court. The executor or administrator has three years from the date of death to file a wrongful death claim. Alternatively, a wrongful death claim may be filed within three years of the date when the executor or administrator knew or should have known of the basis for the claim.
Contact us for a Free Consultation of Your Case Today
Wrongful death claims are very serious matters, and it is important to have a serious attorney to help you navigate the legal system during this difficult time. At DelSignore Law we will be with you every step of the way, and will work hard to ensure that you and your loved ones are compensated.
If you have any questions, visit our website for more information or you can contact us directly by calling or texting 781-686-5924.