Sealing Your Criminal Record in Massachusetts
Attorney DelSignore discusses Sealing your Criminal Record
Background checks are common practice in the modern world. If you have been arraigned on a criminal charge, regardless of how the case was resolved, you have a Massachusetts criminal record. If you are eligible to have your criminal record sealed under Massachusetts law, it is of crucial importance that you do so to ensure that your criminal records does not show up on a background check and interfere with you obtaining a job, getting a promotion, prevent you from finding housing, or otherwise interfering with your life. For instance, Uber and Lyft conduct background checks and any conviction for an OUI or other criminal offense may prevent you from being hired as driver for either company or being able to obtain car insurance. After your records are sealed, employers, landlords, and others conducting background checks will not be able to see your record and you can honestly reply that you do not have a record of any convictions.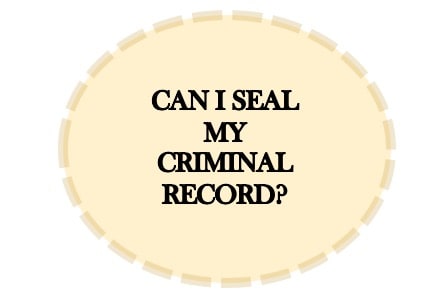 Most criminal charges can be sealed in Massachusetts. It is important to determine how the case was resolved in order to properly seal your record.
Sealing a Conviction
The conviction sealing process is governed by MGL c. 276, § 100A. If you received a conviction; meaning you took a guilty plea, or you were found guilty after a trial you are eligible to seal your record by mail after a waiting period. The waiting period is based on whether the charge was a misdemeanor or a felony.
A misdemeanor is a charge that punishable by a maximum sentence of 2.5 years incarceration.

You can seal a misdemeanor 3 years after you were found guilty or after any jail time whichever date is later.

A felony is a charge that carries the possibility of over 2.5 years.

You can seal a felony 7 years after you were found guilty or after any jail or prison time, whichever date is later.
It is important to note that you do not have to serve any actual time for the charge to be considered a misdemeanor or a felony, rather the distinction is made by the possibility of certain maximum sentences. Your CORI should reflect whether the charge was a felony or
It is important to note that the misdemeanor or felony distinction is not based on time you actually served but rather the possible maximum sentence. Whether you were charged with a felony or misdemeanor should be clear on your CORI, however if it is unclear to you, an experienced criminal defense attorney will be able to identify the charge.
After the waiting period has tolled you are eligible to seal by mail.
Sealing a NON Conviction including CWOFs
If you received a disposition other than a conviction you are eligible to seal your record without a waiting period under G. L. c. 276, § 100C. Some examples of non-convictions are dismissals, CWOFs (case was continued without a finding), no bills, no probable cause or nolle prosequis (where the Commonwealth puts on the record no further prosecution.) The process for sealing non convictions prior to the end of the waiting period is different and requires a hearing before the judge in the court where the charges originated. There is a legal standard that is applied at these hearings and it is helpful to have an experienced attorney assist you in this process
PROCESS FOR SEALING A NON-CONVICTION
To initiate a petition to seal a non-conviction you will first need to complete the petition to seal form. This form can be accessed online. If you have an attorney representing, you they may also prepare a memorandum explaining the reasons why your record should be sealed. You will need to mail the completed form to the clerk's office.
A District Court judge will review your petition and any supporting documents that you include with your petition. If the judge determines that you've met the initial preliminary legal standard for sealing your record, you will be notified by mail when a hearing will be held. A copy of the notice will be posted on the court bulletin board for at least 7 days.
To prepare for your hearing, you and your attorney will compile documents that show the disadvantages caused by the availability of your criminal record, evidence of rehabilitation that demonstrate that you could overcome disadvantages if your record is sealed, any evidence that sealing your records would help you overcome the identified disadvantages, and circumstances at the time of the offense that suggest that you're unlikely to commit future offenses.
At the hearing, your attorney will tell the court why there is good cause to seal your record and how it outweighs the public's general rights of access to court documents and information. The judge may decide that day or they may take the matter under advisement and mail notice of whether or not your record has been sealed.
After the record has been sealed you will want to run a CORI on yourself a month or two after to ensure that your CORI has been updated.
WHAT THE JUDGE CONSIDERS AT THE HEARING
The standard the judge applies at a hearing to seal a non-conviction is "good cause". This standard was set forth in Commonwealth v. Pon, 496 Mass. 296 (2014). The SJC in Pon held that judges may take "judicial notice" that the existence of any criminal record, regardless of what it contains, can present barriers to housing and employment opportunities. To meet the new burden of "good cause" you need to show there is a present or a possible future "disadvantage" that stems from your criminal records. At these hearings the judge will consider a number of factors including:
The particular disadvantages identified by the defendant arising from the availability of the criminal record including

inability to gain employment due to the record
Denial of a promotion based on the record
Denial of housing

Evidence of rehabilitation suggesting that the defendant could overcome these disadvantages if the record were sealed

No new criminal charges
Attending school or job training

Any other evidence that sealing would alleviate the identified disadvantages;

relevant circumstances of the defendant at the time of the offense that suggest a likelihood of recidivism or of success;
the passage of time since the offense and since the dismissal or nolle prosequi; and,
the nature of and reasons for the particular disposition.
This is an important hearing and you should be well prepared. You may want to consider presenting affidavits from colleagues teaches or friends. If you hire an attorney to represent you, they should file a memorandum with supporting documents that show that this record has created a disadvantage and the sealing of the record would remedy that disadvantage.
Here at DelSignore Law we have successfully sealed a number of clients' charges and we would be happy to help you seal your record, so you get the job you want. Give us a call for a free consultation at 781-686-5924.