Is OUI in Massachusetts a Felony or a Misdemeanor?
Most states vary in their definitions of misdemeanor and felony offenses; however, the majority of states, including Massachusetts, classify a first offense OUI as a misdemeanor. For many, being charged with a first OUI, it is not a felony, but it can still have some significant consequences. Even when there is an accident or high breath test result, it does not become a felony unless there is a serious injury or it is a third offense or greater.
However, it is important to note that an OUI offense can become a felony if it involves either of the two following situations: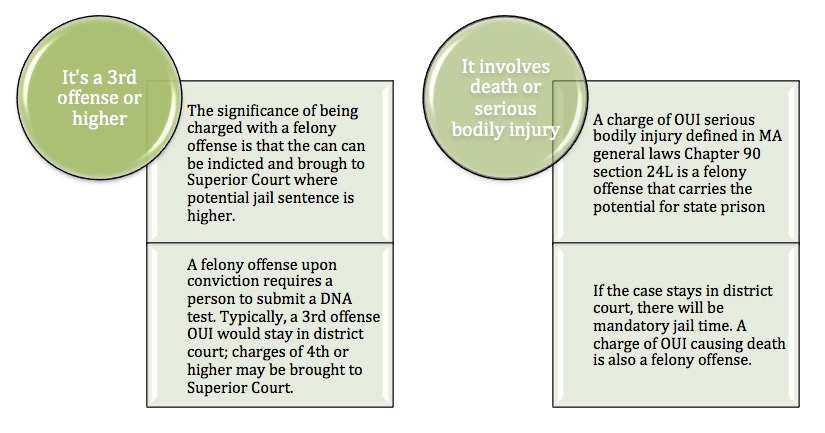 What should you know about a first offense OUI?
While a first offense OUI is a misdemeanor offense, you should know that it carries the potential for a license suspension, a requirement that you complete an Alcohol Education Program, and, if found guilty, you would have a criminal conviction on your record.
Misdemeanor offenses are serious, and you should understand the license consequences and defenses to your case. Do not enter into any plea agreement without knowing the defenses to your case. There are a few key points for you to understand when charged with a First Offense OUI:
First offense OUI cases are often winnable at trial;
Failing a breath test does not mean your case cannot be won;
Many times, there is little downside to fighting the case, meaning your penalty after trial and on a plea are not significantly different.
ATTORNEY DELSIGNORE IS A ROCKSTAR!
I was arrested for an OUI Third Offense along with an array of other charges. I knew that I needed to do my research to find the best possible defense attorney in the state. I met with Attorney DelSignore, he was reliable, was always available, and informed me on what to expect leading up to each court date. The preparation that Mike did for my trial was beyond what I was expecting. Come trial day, he showed up to court with all of the materials he had been collecting and preparing in support of my case, even making several trips out to his car to gather more information. He cross-examined the three officers that were testifying against me, and pointed out many details in their testimony that strengthened my case. I was found not guilty of the OUI and had many other charges dismissed due to lack of evidence. If you are in need of expert defense, I would advise to look no further. Michael Delsignore is the one!
CLIENT CHARGED WITH OUI 1ST OFFENSE AFTER CIVILIAN COMPLAINT OF INTOXICATED DRIVER ON THE ROAD
In this case, dispatch received a call from another person that (our client) was under the influence of alcohol in his vehicle. The officer arrested the client after he allegedly failed a number of the field sobriety tests, including the nine step walk and turn, claiming the defendant was unsteady and skipped many steps. However, the civilian witness that was called at trial rebutted much of the officer's claims, as the civilian testified that she did not think our client had slurred speech or blood shot eyes. Attorney DelSignore was effectively able to cross examine the witness and the officer, which resulted in the client being found not guilty after trial!
CLIENT WITH .17 BREATH TEST RESULT FOUND NOT GUILTY AFTER JURY TRIAL!
In this case, our client was allegedly observed by the police to be driving on the wrong side of the road, and had blood shot/ glossy eyes, slurred speech, and failed the field sobriety tests asked of him. He took the breath test and failed with a result of .17, but Attorney DelSignore worked to have this evidence excluded from the defendant's trial. The booking vide was also used to show the defendant did not have the signs of impairment that the officer was claiming. The jury ultimately returned a verdict of not guilty!
Second offense OUI
A second offense is treated like a first offense in the state of Massachusetts in regards to the crime classification; first and second OUI's are both classified as misdemeanor crimes in the state of Massachusetts. However, these charges differ in the license penalties as well as the penalties if you are convicted of the crime.
Third offense OUI or Greater: A Felony Charge
It is true that in Massachusetts, being convicted of a third or greater offense OUI charge is considered a felony and has mandatory jail time associated with the conviction. Felony charges are the most serious type of criminal charge you can face, and can result in a number of hardships as a result of conviction. Many employers and realtors, for example, will not hire or rent an apartment to you if you have a felony on your record.
If convicted of a third offense, you will be required to serve a minimum of 150 days in jail, and the fines can be anything up to $15,000.00. The license loss period for a third offense OUI is eight years.
Attorney DelSignore explains when an OUI charge is a misdemeanor and when it becomes a felony charge in Massachusetts
An experienced OUI trial attorney can explain the law to you
At DelSignore Law, we understand how confusing Massachusetts criminal law is, and we are here to help you and to explain the charges you are facing. Contact us today for an explanation and we can clarify whether you are facing a misdemeanor or felony offense.
In the meantime, feel free to view some of the defenses available to an OUI case here , as well as some of our recent case results !