Is OUI in Massachusetts a felony or a misdemeanor?
Most states vary in their definitions of misdemeanor and felony offenses; however, the majority of states, including Massachusetts, classify a first offense OUI as a misdemeanor. For many, being charged with a First OUI, it is not a felony, but it can still have some significant consequences. Even when there is an accident or high breath test result, it does not become a felony unless there is a serious injury or it is a third offense.
However, it is important to note that an OUI offense can become a felony if it involves either of the two following situations: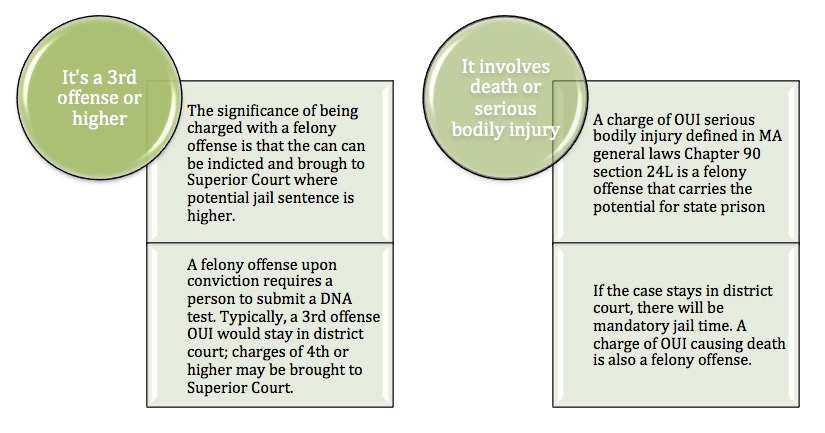 What should you know about a first offense OUI?
While a First Offense OUI is a misdemeanor offense it still carries the potential for a license suspension, requirements that you complete an Alcohol Education Program and would count as a First Offense conviction.
While the offense is a misdemeanor, you should understand the license consequences and defenses to your case and not enter into any plea agreement without knowing the defenses to your case.
The Key point for you to understand when charged with a First Offense OUI:
The cases are often winnable at trial;
Failing a Breath test does not mean your case cannot be won;
In many cases there is little downside to fighting the case, meaning your penalty after trial and on a plea are not significantly different.
If you have any questions about whether OUI is a felony or misdemeanor you can contact Attorney DelSignore at 781-686-5924
WANT TO LEARN MORE ABOUT DEFENSES TO AN OUI?
Get an overview of key issues in defending an OUI cased at trial.
You can also download my free book Understanding Massachusetts Drunk Driving Laws to learn more about your defenses and the process of defending a Massachusetts OUI charge in Court.