Ayer OUI Lawyer
If you have been charged with an OUI in Ayer, Massachusetts, (often referred to as DWI and DUI) the first step you need to take is to contact an experienced OUI lawyer. Attorney DelSignore understands police procedure and evidence collection, and has practiced criminal defense for years.
Handling primarily OUI cases, Attorney DelSignore knows how to obtain important evidence, what evidence can help win your case in court, and what evidence might be excluded under the law. When you hire a DelSignore Law attorney, we will be able to walk you through the court process, and will take the time to explain the different court dates you may have scheduled.
Client with .13 breath test result found not guilty after taking the case to trial in Ayer
The Groton police arrested the defendant after allegedly speeding, failing a number of the field sobriety tests, and telling the officers that they consumed alcohol. The breath test result was ultimately excluded from evidence at trial due to pending litigation, so Attorney DelSignore moved to take the case to trial as quickly as possible. At trial, Attorney DelSignore highlighted the positive aspects of the client's case, including the correctly-performed field sobriety tests. After trial, the client was found not guilty.
Under 21 Client found not guilty after trial in the Ayer District Court
Not only was the client under the age of 21 when he was arrested and charged with OUI, he was also an active college student; he was arrested in Boxborough and was alleged to have failed field sobriety tests, alcohol in the car, had bloodshot and glassy eyes, and was unstable while outside of his car. Attorney DelSignore was effectively able to cross examine the arresting officer at trial, resulting in the client being found not guilty of OUI. Because of the client age, he would have been subjected to harsher license penalties but was able to avoid any further punishment after being found not guilty.
OUI 2nd Case: Client found Not guilty in Ayer!
In this case, the defendant was alleged to have crossed the marked lanes, told the arresting officer he had too much to drink before getting behind the wheel, failed the field sobriety tests, and had open bottles of alcohol in the vehicle. At trial, the defendant testified, which rebutted much of the officers' claims. Because the defendant was found not guilty after trial, he avoided a mandatory inpatient program as well as a two-year license loss.
The Ayer District Court (pictured below) is located at:
25 E Main street, Ayer, MA 01432.
Attorney DelSignore has office locations conveniently located throughout
Massachusetts in an effort to accommodate for his clients.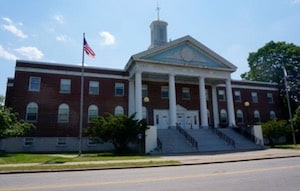 I failed the breath test and the officer alleged a number of incriminating things against me in the police report. Do I have any chance of winning my case?
In this video, Attorney Michael DelSignore explains how to fight an OUI charge in the Ayer District Court.
Until your case is taken to trial and you are given your day in court, you need to remember that you are innocent until proven guilty. Before we can prepare a winning defense for your case, we need to evaluate it and identify both the strengths and weaknesses. In preparing a winning defense, we will address the following elements:
Observation of driving and following the activation of the blue lights
Interaction with the arresting officer/ police department
Exit from your vehicle
Performance on the field sobriety tests
Your conduct during the booking process
Each case is different, but we will analyze the case from start to finish in order to rebut the officer's claims against you.
What steps should I take before my first court date?
If you have been charged with an OUI in Ayer, the bottom line is that you need to contact an experienced lawyer for a consultation of your case. You can call Attorney DelSignore at 781-686-5924 for a free consultation to discuss your case. He will provide you with the information you need to be aware of going forward with your case. Most phone calls are returned within an hour if not answered immediately.
As a result of successful outcomes on OUI cases, Attorney DelSignore defends clients throughout the Commonwealth. Cases are handled the same regardless of the district court you are charged with as the Court process is the same throughout the Commonwealth.
Some feel as though a local lawyer may know the judge better; possible, but not likely since judges are not assigned to one court but get reassigned to different courts. My advice would be to hire the best lawyer for your case, which you will be able to determine by meeting with a few different lawyers. Contact Attorney DelSignore today.
To learn more about some of the penalties you face if charged with an OUI first offense, visit our website today.
CLIENT CHARGED WITH OUI FOUND NOT GUILTY AFTER TRIAL IN AYER
In this case, our client was involved in a three-car car accident. When police responded to the scene, they formed the opinion that our client had slurred speech, smelled like alcohol, and had bloodshot and glassy eyes. At trial, we called several witnesses and used the booking video and 911 call from the night of the defendants arrest. Using these key pieces of evidence, we were able to show the judge that the defendant did not actually have slurred speech as the officer claimed. After trial, the defendant was found not guilty, avoiding any criminal conviction on her record.