What is the Impact of Massachusetts OUI for a School Teacher?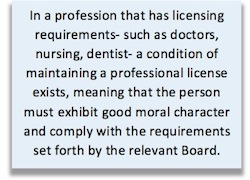 Being convicted of an OUI in Massachusetts can have severe consequences for teachers that wish to maintain, renew or apply for a Massachusetts teaching license.
About your Teaching License
Teaching licenses are governed by the Massachusetts Department of Education. At a minimum, licensed teachers in Massachusetts must submit to a CORI criminal check every 3 years which gives the Massachusetts Department of Education the right to investigate convictions.
Massachusetts General Laws Chapter 71 Section 38R requires all schools to conduct criminal background checks on current and prospective employees and volunteers, including those who regularly provide school related transportation to students, who may have direct and unmonitored contact with children.
CORI must be obtained from the CHSB at least every three years during an individual's term of employment or service.
A criminal record check may also be conducted for criminal and pending, or case information only, as authorized.
What factors influence my teaching license?
A major factor in the impact on your license will be the number of OUI offenses you have had in your lifetime. Those with a first offense OUI charge in Massachusetts are mostly likely to retain their employment after being charged and even upon conviction. Once you reach a second offense charge you are in more serious jeopardy regarding your ability to maintain your teaching license.
Since many teachers do not have employment contracts, a conviction of a criminal offense could result in the loss of employment or reduced employment opportunities if the individual is unemployed.
As with any professional license, it is important for any individual charged to be aware of the potential employment consequences and actions that could be taken by the regulatory licensing board. In my experience, those with only a first offense OUI conviction have been able to retain their teacher's license and have not been terminated as a result of the OUI conviction. However, your particular situation could result in a different outcome.
If you are charged with a Massachusetts OUI and have a teaching license it is important to fight the charge given the serious consequence to your professional status. Attorney DelSignore understands the severe consequences to your professional teaching license as a result of a Massachusetts OUI offense. To discuss your case you can call Attorney DelSignore at 781-686-5924 or 508-455-4755.