What happens when a Massachusetts OUI Drugs charge involves Vicodin?
In Massachusetts, it is a crime to drive under the influence of a drugs. As a Massachusetts OUI Lawyer, Attorney DelSignore has attended numerous specialized training courses to assist clients in defending charges based on driving under the influence of drugs.
Driving under the influence of a drugs will be referred to as an OUI drugs charge in court. You may also be charged with OUI alcohol as well if there are allegations that you mixed a prescription drug or illegal drug with alcohol.
In the case of someone alleged to have mixed a drug with alcohol, the Commonwealth will require that the judge instruct the jury that alcohol does not have to be the sole cause of the impairment. If the jury finds that the combined impact of a prescription drug and alcohol caused the impairment, the jury will be told that, assuming that the Commonwealth has proven the case beyond a reasonable doubt, that that would be enough to support a conviction.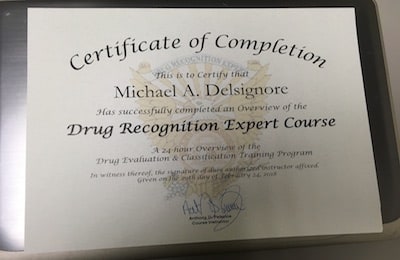 Attorney DelSignore attended a Drug Recognition Expert Seminar in Atlanta, GA, where he received training on how to effectively cross examine DRE officers and learned about the training they received at the police academy.
Massachusetts law defines a drug as any narcotic, depressant or stimulant. Vicodin belongs to a class of drugs referred to as a Narcotic Analgesics; this family of drugs involves reduction of pain.
When a police officer suspects that someone is on Vicodin, their main suspicion will be derived typically from finding olds pills in the car, prescription bottles and statements by the motorist admitting consumption. Once the officer develops a suspicion that impairment by drugs may be in play, after the arrest, a second officer known as a DRE may request that you submit to a follow up exam.
This DRE officer will initially appear very polite; contrasting himself with the officer that arrested you in order to gain your cooperation in the evaluation. However, this exam typically will reveal evidence against you that we will have to confront by either suppressing the statements, excluding the entire DRE exam as not scientifically reliable or in the case when it comes into evidence, confronting it at trial.
In your police report when you are arrested for OUI drugs, a Massachusetts OUI Lawyer would look for the following statements from the officer pertaining to the common effects that Vicodin or any Narcotic Analgesics have on a person. These include:
Being on the nod (as the officer will put it)
Droopy eyelids
Head slumped forward
Chin on chest
Easily awakened
Normally, the person will be alert to questions
An officer may also observe issues with:
Reflexes
Slow speech
Inability to concentrate
Slow breathing
Skin cool to the touch
Possible vomiting
Itching of the face, arms, or body
The officer will conduct a DRE exam. The DRE process is outlined in detail here. But for this web page, we want to focus specifically on the signs that the officer will look for when forming an opinion as to impairment by Vicodin.
The officer, as part of the 12-step evaluation, will conduct a vital signs check. The pulse will be down, blood pressure down, body temperature down and muscle tone flaccid. This is what the DRE will be looking for in the vital signs portion of the exam.
You may have also been surprised to find yourself in dark room. Different drugs impact the pupils in different ways. While it is very debatable that police officers have the skills to make the evaluation that is being performed, this is what they are looking for. With Vicodin or any Narcotic Analgesics, constricted pupils and little to no reaction to light are common.
The officer may observe some general indicator of impairment. With alcohol, the officer is looking for slurred speech, being unsteady, bloodshot and glassy eyes, and odor. With Vicodin or drugs that are Narcotic Analgesics, an officer may claim to have observed in the report:
Constricted pupils
Depressed reflexes
Droopy eyelids
Drowsiness
Dry mouth
Facial itching
Euphoria
When the officer conducts the DRE exam, the officer would expect to find the following on the remaining portions of the process. The officer would have given you several eye tests, called the HGN, VGN and lack of convergence test. With a Narcotic Analgesics, none of these should be observed.
Pupil size should be constricted
Reaction to light should be slow or visible
Pulse rate should be down
Blood pressure down
Temperature down
Muscle tone would be flaccid
Contact a DelSignore Law Attorney today
If you are charged with driving under the influence, you must have a Massachusetts OUI Lawyer that understands the training of police officers and DRE experts alike. DelSignore law attorneys have experience cross examining DRE officers and understand that these cases are difficult, but winnable, in court. Contact us today .
You can learn more abou a charge of OUI drugs or the DRE evaluations done by officers on our website here.