Ignition Interlock Device Violations in Massachusetts
If you violate the conditions of the Ignition Interlock Device ordered to you by the court, you should know that you may be facing harsh penalties. An Ignition Interlock Device, or IID, is a breath-alcohol monitoring device that is installed in your vehicle for a variety of reasons.
A common issue is that many think they can use a family members' car, that does not have a court-ordered IID, and that doing so is legal. However, the key to this issue is that the IID must be utilized in every vehicle you either:
Own
Lease, or
Operate
Part of your responsibility, as a driver with a IID, is that you are required to follow all rules and regulations that come with a court-ordered IID. Legally, you are not allowed to tamper with the device in any way and are not allowed to find a way around using the vehicle without having to blow into the device. The bottom line is that there are consequences should you violate these conditions.
What exactly is considered a violation of my Ignition Interlock Device?
Driving a vehicle without an Ignition Interlock Device: When the court orders that you have a IID, they actually apply this condition to your license. As mentioned, this applies to ANY vehicle you operate. You could lose your license for 10 years.
Tamper with or Remove the IID: If you are found to have done so, a hearing at the RMV will be scheduled. This results in a 10-year license loss.
A rolling re-test is a randomly administered test that you are required to take after you have been driving your vehicle for a certain amount of time; the machine will beep and you will be required to take the test within 5 minutes (this gives you time to safely pull over before doing so). If you miss 2 rolling re-tests, or if you fail a rolling re-test twice and you blow a BAC between above .02, you will receive a 10-year license suspension if the registry finds you to be responsible.
How does the District Attorney Prove that I drove without my Ignition Interlock Device?
There are three elements that the District Attorney must prove, beyond a reasonable doubt, to find you guilty of driving without your IID.
The first, is that you drove your car on a public way.
Secondly, that the motor vehicle you were operating was NOT equipped with a certified & properly functioning IID.
Lastly, that you did so while your license had the conditions applied that you are only to drive a car that has the IID properly installed.
What penalties do I face if I was found guilty of driving without my Ignition Interlock Device?
If convicted, you may face a prison sentence; the sentence could be anywhere from 2.5 years up to 5 years behind bars.
If sentenced to the House of Correction, you could be facing fines ranging from $1,000.00 up to $15,000.00 and a jail sentence of 180 days ranging up to 2.5 years. There is a requirement that you serve a MINIMUM of 150 days before becoming eligible for probation or for other court remedies.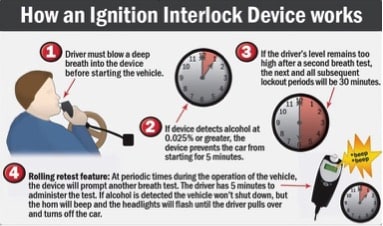 At DelSignore Law, we pride ourselves on making sure our clients are well prepared and informed for any upcoming court dates, and we do our best to make sure you understand any charges you are facing along with any potential consequences if you are found guilty.
Contact DelSignore Law today. We offer free over-the-phone consultations and can gladly give you more information about your IID and defenses that may be available to your case.
If you were charged with an OUI first offense and are wondering whether or not you will need to get an IID installed, visit our website here to learn more.
If you are facing any criminal charge, feel free to view some of our case results on our educational website here.