What are the License Consequences of a First Offense OUI Charge?
Attorney DelSignore explains when you can get your license back after being charged with OUI for the first time in Massachusetts.
As an OUI Lawyer in Massachusetts, I understand that a major priority is to get your license back so you can get back on the road as soon as possible. Accordingly, I have created a diagram to assist you as you begin to understand the various consequences you may face. The consequences often depend on whether or not you took the breath test, so also see below the diagram for more information.
What are the license consequences for a 1st Offense OUI?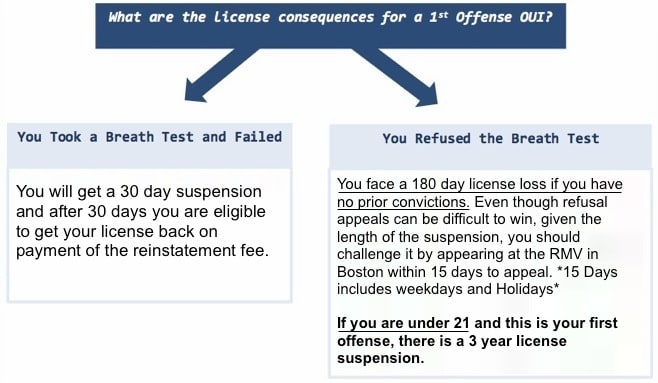 How you choose to handle the case will govern when you will get your license back.
In most cases, you will be eligible to get your license back by 6 months at the latest possible suspension. Here are the different options:
You took the breath test and failed with a result over .08. You can receive your full license back after thirty days. To get your license back you will go to the Registry of Motor Vehicles, see a hearing officer and have the $ 500.00 dollar reinstatement fee. The reasons you need to see a hearing officer is to determine if there are any other suspension of your license other than the breath test refusal. Some individuals could have multiple suspension of their license and therefore not be eligible for reinstatement.
If you took the breath test, you should get your license back in thirty days. Your license could get suspended if you admit to the charge or are found guilty. Nonetheless, after thirty days you should get your license back and will have it back during the pendency of the case.
If you refused a breath test you face a 180 day license loss, assuming you have no other prior OUI convictions and are over 21. If you are under 21 and refused to take the breath test, there is a 3 year license suspension.
To get your license back you need to either appeal the breath test refusal suspension within 15 days with the Registry of Motor Vehicles in Boston or obtain a not guilty verdict on the OUI Offense and have a judge allow a motion to reinstate your license.
Can I get my license back if I refused or failed the breath test?
NOTE: Prior to admitting to an OUI Offense, you should always talk to a lawyer that handles drunk driving cases to make sure you understand your defenses and potential ways that you can win your case if taken to trial. It is never a good idea to rush into a plea for the purpose of getting a hardship license because an OUI conviction will stay with you for lifetime. Given that many times a first offense can be won at trial, it is best to speak with an OUI attorney before making any big decisions.
Whether you failed a breath test or refused a breath test, if you admit to the OUI offense and receive the 24D disposition-which is typically the sentence imposed- you would be eligible for a hardship license.
The downside of getting your license back in this fashion is that you will have resolved the OUI case.
If you have any questions about the license consequences of a first offense OUI charge in Massachusetts, feel free to call Attorney DelSignore on his cell phone at 781-686-5924 or Office line at 508-455-4755.
To Learn more about the Court Process and how your case will be defended in court, visit our Page explaining the Court process.