Webster OUI Lawyer
Attorney DelSignore tips when arrested by Webster police department
Attorney Michael DelSignore is well known for handling OUI cases in Massachusetts and in particulate in Dudley District Court. He has had numerous cases with the Webster police department and can tell the what to expect both in general and in particular with regard to this police department.
The Webster police department is one of the few departments in Massachusetts that has cruiser camera of the stop and booking video at the station. In most cases, you will have video of the entire encounter you had with the arresting police officer.
The entire video is not admissible at trial so the video would have to be edited. Attorney DelSignore will create a version of the video if it help your case that shows you do not look under the influence of alcohol. The HGN test is almost never admissible at trial and any mention of prior offense or a portable breath test would also have to be excluded from evidence at trial.
Some of the common questions clients ask include the following:
Should I take my OUI charge to trial?
What are the penalties of OUI in Massachusetts?
Obviously someone with an OUI charge wants quick, clear and informative answers. Unfortunately very few cases have quick or clear answers.
Common questions like these cannot be answered with a general one-size-fits-all approach. Michael DelSignore is committed to not only answering your questions, but also reviewing the facts and circumstances of your case- leading you to a winning course of action.
For many taking the case to trial is the best decision, as the penalties for being found guilty after trial are basically the same as the individual would receive if admitting to the charge by way of plea. Penalties for a first OUI include a 45 days license loss, the requirement that you complete an alcohol education program and monetary fines.
An OUI charge in Webster Massachusetts is a difficult situation to navigate alone.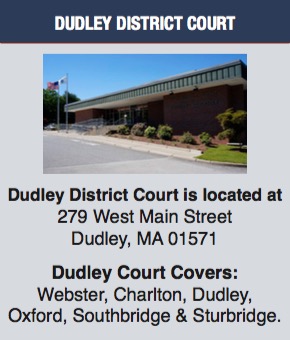 Making decisions about how to proceed with an OUI charge can be confusing to say the least. With all the different penalties, all of the exceptions in the law, and all of the potential outcomes for your unique situation, you need to hire an attorney that is experienced and trained in the field of OUI. As a member of the National College for DUI Defense and the National Association of Criminal Defense Lawyers, Attorney DelSignore has that training.
About Dudley District Court
The Dudley District Court, West Main Street, Dudley MA 01571 will hear any drunk driving arrest brought by the Webster police department. The court hears cases from throughout Worcester County, including Charlton, Oxford, Sturbridge and Southbridge.
The Law Offices of Michael DelSignore are conveniently located in Westborough, 1900 West Park drive, Suite 280, Westborough, MA 01581.
Call Attorney DelSignore at (508) 455-4755 for a free consultation in his Westborough Office or at one of his other offices located throughout the Commonwealth. You can also reach Attorney DelSignore on his cell by call or text at 781-686-5924.