Scheduling your First Appointment to meet with us at DelSignore Law
When you pick up the phone to call us, we are happy to offer a free, no-obligation consultation over the phone. During the conversation, it is likely that a mutual appointment will be set up for you to come in and meet with me at my office. Office meetings give us an opportunity to meet face-to-face, and allow for a DelSignore Law attorney to go over your case, as well as your version of the incident, and much more.
DelSignore Law is located across Massachusetts in order to better service our clients. We would be happy to meet with you at an office location nearest to you:
Dedham 20 Eastbrook Rd #304
Dedham, Massachusetts 02026
Westborough1900 W Park Dr #280
Westborough, Massachusetts 01581
Attleboro120 N Main St #306
Attleboro, Massachusetts 02703
Marlborough225 Cedar Hill St #200
Marlborough, Massachusetts 01752
Stoughton530 Washington St
Stoughton, Massachusetts 02072
New Bedford448 County St
New Bedford, Massachusetts 02740
Attorney DelSignore explains what you can expect when you meet with us for the first time
For your first appointment, we ask that you bring a copy of your police report (if possible). This way, we are able to go through the police report and review it with you. By doing this we can identify the strengths and weaknesses of your case, and I can hear your version and compare how it matches up with the report. It is not uncommon for your story to differ from the police report. Police generally only put bad or incriminating information in the police report.
Understanding the Court Process
When you come in to meet with us, we will go over the court process and what you can expect moving forward. It is likely you would have already had your arraignment date, but we will go over the pretrial hearings, motion hearings (if applicable), and how you want to resolve the case.
We can take your case to trial, or you can resolve it to get your license back quickly. You should never decide to take a plea before first reviewing all of your options and the case against you. Most OUI cases are winnable and, therefore, should be taken to trial in order to avoid a conviction.
I will go over what types of defenses are available to your case and what time of strategy we will use as the case progresses. There are many themes we can convey to the jury to illustrate that you were not under the influence at the time of your arrest.
Before you Leave the Office
Before you leave the office, I will make sure that we go over the police report, discuss your case strategy, and make sure you understand what you can expect going forward. I also might want to touch base on your past medical history as well as any witnesses that may have been involved with your case.
I will give you an intake form to fill out and return back to me. This gives us a better understanding of your case and allows for you to write out, in detail, what happened the night of the arrest. I will also send you home with a copy of a book I wrote which explains OUI law in Massachusetts. My book is easy-to-read and informative, and I encourage my clients to read it after their arrest. I think it will help put your mind at ease and answer any questions that you might think of after the initial meeting.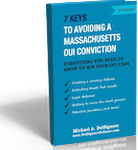 If you are interested in setting up an office appointment with us, feel free to give us a call today at 781-686-5924. We can meet with you most days of the week, and are happy to set up an evening or weekend appointment if it is more convenient for you. Contact DelSignore Law today!
You can read more about the court process and common court dispositions on our website today.