Salem OUI Lawyer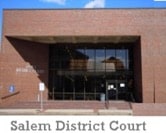 If you are looking for a Salem OUI lawyer, you find focused, knowledgeable and strong representation with Attorney Michael DelSignore. Attorney Michael DelSignore gives every case and every client case-specific attention and fights aggressively to protect your rights and your freedom. Attorney DelSignore represents clients charged with Massachusetts OUI in Salem and throughout the Commonwealth of Massachusetts.
The Consequences for being arrested for OUI in Salem is something you should consider seriously. Choosing the right attorney to represent you is a critical priority. Attorney DelSignore specializes in defending clients who have been charged and arrested with OUI in Salem, Massachusetts. Cases for defense representation include:
Been charged with DUI/OUI/DWI
Refused the breathalyzer
Charged with a second, third or fourth offense DUI/OUI/DWI
Failed a breathalyzer test
Failed field sobriety tests, including the one leg stand or nine step walk and turn.
Been stopped at a Roadblock
The Salem District Court is located at 65 Washington Street, Salem, MA 01970. The Court is located in the downtown Salem area. The Salem District Court hears cases that originate in the following towns:
Beverly
Danvers
Manchester by the Sea
Middleton
Salem
The Salem District Court is considered part of Essex County.
If you have any questions about a Salem OUI charge, you can call Attorney DelSignore at 781-686-5924. You can set up a free consultation at his Boston Office located at 8 Faneuil Hall Marketplace, Boston, Massachusetts or one of his other convenient locations throughout Massachusetts. When you call for a consultation, Attorney DelSignore will arrange for an office appointment and provide you with free information regarding your Salem OUI arrest.