Rutland, Massachusetts OUI Lawyer
Being arrested for an OUI is not an event to take lightly because the penalties against you are intense; even on a first OUI offense you could face up to two years in prison. Attorney Michael DelSignore has handled many first offense OUI cases in which the client does not have to plead guilty, however, each case is unique and provides its own difficulties.
Beyond the first offense the penalties of an OUI become more strenuous and harsh. It also becomes increasingly more difficult to prove innocence and keep you from steep fees and fines, and jail time.
EAST BROOKFIELD DISTRICT COURT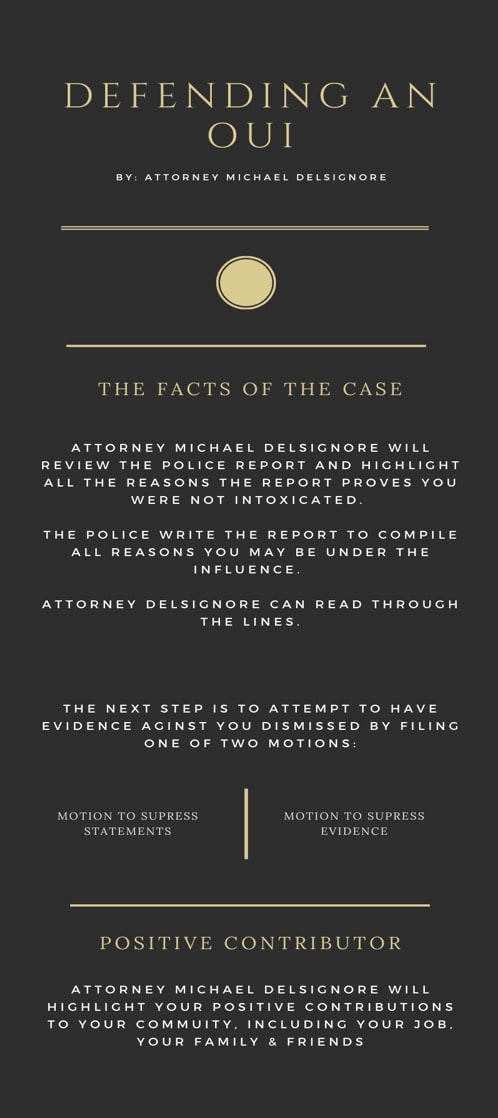 If you have been charged with an OUI in or near Rutland, Massachusetts then your case will be heard in the East Brookfield District Court located at 544 E Main St, East Brookfield, MA 01515.
OUI PENALTIES
Below are the maximum penalties you will face after our first OUI charge and beyond.
1st offense - 1 year license suspension, 2.5 years in jail, fines ranging from $500-$5,000.
2nd offense - mandatory 30 days in jail but up to 2.5 years possible, fines ranging from $600-$6,000, 2 year license suspension & interlock ignition device installment after hardship application or license reinstatement.
There are alternate penalties and courses of action that can be taken if your 1st OUI offense was more than 10 years ago.
3rd offense - 180 days in jail, up to 5 years (mandatory 150 days before serving time), fines ranging from $1,000-$15,000, 8 year license suspension.
4th offense - mandatory 1 year in jail, up to 5 years, fines ranging from $1,500-$25,000, 10 year license suspension, up to lifetime loss if you failed the breath test.
LEGAL REPRESENTATION
If the idea of facing any of the penalties above does not already worry you, here are a few more reasons hiring experienced legal representation to fight your case is a good idea:
EXPERIENCE. Lawyers at DelSignore Law have faced hundreds of criminal cases in their careers and know the ins and outs of most Massachusetts courts & their presiding judges.
TRAINING. Attorney Michael DelSignore has undergone the same special training as police officers who conduct field sobriety tests. He understands that there are certain ways the tests are supposed to be administered and conducted.
KNOWLEDGE. An untrained eye will read over a police report and may automatically think that there is no case to be made and the best option is to plead guilty to the charges against you. Attorney Michael DelSignore will receive a copy of the police report, examine it & hand it back to you with a completely different story, one that highlights all the ways you can fight your case.
If you're still not convinced that DelSignore Law can help you win your case, hear what past clients have to say by reading more here.
"First Offense OUI Experience"
★★★★★
"Hiring Mike DelSignore was the best decision I made regarding my case. He was available any day, at any time, to answer my questions. His knowledge of the law and legal process is extremely thorough. At trial, he attacked the officers knowledge of the field sobriety tests, and used my medical records to demonstrate why I may have "failed" the roadside tests. His detailed preparation for my court appearances was excellent and I could not have been more pleased with the not guilty end result!"
CONTACT US
Call or text Attorney DelSignore directly for a free consultation about your case at (781) 686-5924. It is never too early or late to call us; we are here to help you.
Our passion is to help those in need. Contact us today.