Plymouth OUI Lawyer
As an OUI Defense Attorney Michael DelSignore has spent his entire career practicing law across the entire state of Massachusetts. His thorough knowledge about court processes, judges and prosecutors has propelled him in his career to win even the toughest of OUI cases. For these reasons and more, Attorney DelSignore knows that prosecutors in Plymouth County are especially tough on OUI cases, even on your first offense.
Plymouth District Court:
Arrest by the State Police Norwell Barracks not guilty after trial
November 2020
In this case, the client was arrested for OUI after allegedly driving erratically on Route 3. The officer claimed that the client could not stay in the marked lanes, almost hit the guard rail and was failing to maintain the correct lane. The officer claimed to smell a strong odor of alcohol, that the client had trouble retrieving their license and failed 2 field sobriety tests. At trial, Attorney DelSignore presented evidence showing what the client was doing that evening to show that she was not drinking excessively and could have been tired by her day's activities. After trial, the defendant was found not guilty of OUI.
CONTINUANCE WITHOUT FINDING
On a First offense OUI in Plymouth District Court, or any court in Massachusetts, the standard plea is known as a Continuance Without a finding or CWOF. When a person accepts a CWOF, they admit to the OUI charge, are placed on probation for one year and have to complete a 24D alcohol education program, as well as pay fines and fees.
A CWOF is a form of a plea agreement in which the defendant acknowledges before a judge that the facts in the police report are largely true and waives the rights to a trial. CWOFs are typically given to those with little or no prior criminal record on their first criminal violation of the law.
A CWOF is not a dismissal of the OUI; it is essentially a guilty plea to the OUI charge
In Court, often a judge will say that after successful completion of probation when you receive a CWOF, the charge is dismissed. While this is true, it is not the same as a dismissal. When the Court says that the charge is dismissed, the court means the case is closed out without a criminal conviction, technically.. However, the CWOF is still on your record and counts as a prior OUI offense, so it is not the same as a not guilty or outright dismissal of the charge.
A CWOF will still appear on the defendant's record; it is not the equivalent of a dismissal of the case at hand. The defendant is admitting to the charges and will have to undergo a one year probationary period before the case is closed. Accepting a CWOF means that you are admitting truth to the charges before you, without conviction by the courts, but not without penalty.
If you have a solid defense to the charges against you, a CWOF may not be the right choice. Consult an experienced OUI lawyer before moving forward with this decision. Taking the case to court and trying to win may be a better option than a plea.
PLYMOUTH DISTRICT COURT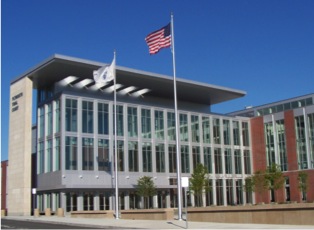 For all proceedings in the case, the defendant will need to appear at Plymouth District Court, located at 52 Obery Street, Plymouth, Massachusetts 02360.
LICENSE REINSTATEMENT
If you accept a CWOF, you are admitting to operating a vehicle while under the influence and therefore the Registry of Motor Vehicles (RMV) will treat a CWOF as an OUI offense and suspend your license.
And so, if you need to get back on the road for work or personal purposes, a CWOF may not be the best option for you.
HARDSHIP LICENSES
A hardship license allows the recipient to drive for a 12 hour period. In order to obtain one, you must appeal before the RMV to have your case and prior driving record reviewed. Additionally you must prove that you do not have access to public transportation. The RMV will consider a hardship license in cases where the defendant was:
Operating a motor vehicle while under the influence
Convicted of their first OUI offense or admitted into an alcohol education or treatment program
Convicted of their first criminal drug charge
A repeating traffic law offender
CONTACT US
Call or text Attorney DelSignore directly for a free consultation about your case at (781) 686-5924. It is never too early or late to call us; we are here to help you.
Our passion is to help those in need. Contact us today.