Norwell OUI Lawyer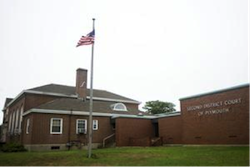 Hingham District Court
28 George Washington Blvd. Hingham, MA
Norwell OUI lawyer Michael DelSignore represents those charged with OUI in Hingham.
Being arrested for OUI in Hingham, can be highly misleading and suggestive of guilt. You have been stopped, questioned, arrested, accused, fingerprinted, restrained and directed by the police through each step in the OUI process.
Many arrested for OUI are stopped by the State police in Norwell. The State police in Norwell are very aggressive in stopping individuals for OUI; in some cases, the police may not have a constitutional reason for the stop; in other words, just because the officer stopped you, does not mean that the stop was proper under the constitution.
What if someone call 911 to report your driving
Often, an OUI charge will start with a citizen calling 911 to report another driver's erratic driving. A police officer cannot automatically pull someone over based on a 911 call. The district attorney must show if there was a motion to suppress challenging the stop that the police did not verify the call or have enough information to justify making a stop.
The Hingham Court handles cases from OUI arrests made in the towns of:
Hingham,
Hull,
Middleboro,
Norwell,
Rockland,
Scituate,
If you have been charged with an OUI in Norwell, which is located in Plymouth County, you need to contact a Norwell DUI attorney that is experienced and specializes in handling Massachusetts DUI Cases.
Where are Norwell OUI arrests heard?
Norwell DUI arrests and charges are tried in Hingham District Court located at: 28 George Washington Blvd. Hingham, Massachusetts.
What happens at when you schedule an office appointment?
Your first consultation is free, so you have nothing to lose by contacting Massachusetts drunk driving attorney Michael DelSignore. During your initial consultation, he will go over the specifics of your case, ask you questions about your goals, and outline a plan to attack the State's case against you. Norwell OUI Attorney Michael DelSignore maintains offices throughout the State of Massachusetts including Stoughton and Westborough. Attorney Michael Delsignore is available to answer your questions at (781) 686-5924 or click here to send an email. Massachusetts OUI Consultations are Free evaluation of your case.