New Bedford OUI Lawyer
For individuals charged with DUI in New Bedford may have strong cases to take to trial to obtain a not guilty verdict on their drunk driving charge. Most people who have been charged feel as though the case cannot be won without the help of a lawyer. Often, I am called for someone who accepted a plea and now wants to contest the case, only to tell them it is likely too late to vacate the plea. The first step for dealing with a DUI is to understand the law before attempting to hire a lawyer or resolve the case personally.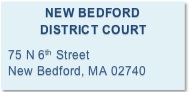 Location of the Court
A drunk driving offense in New Bedford will he heard at the New Bedford District Court at 75 North Sixth Street, New Bedford.
Court Procedure in New Bedford
The court is divided into three sessions;
When you walk in for your first court appearance, after you check in with probation, your case will be heard in the middle court room, session one.
After your first court date, pretrial hearings are held in session two
Trials and motions are heard in either the 3rd or 4th sessions.
The New Bedford District Court typically has 3 to 4 judges sitting each day and is one of the more efficient and better runs courts in the state in terms of moving cases quickly through the court system.

Office Procedure
My New Bedford Office is located within walking distance from the court at 448 County Street.
Massachusetts drunk driving laws can be confusing and those charged with OUI in New Bedford commonly have questions such as:
As an attorney that has handed countless cases in New Bedford District Court, Attorney DelSignore will be happy to explain the court process to you in person or over the phone. If you want to learn more about DUI laws in Massachusetts, you can download Attorney DelSignore free book and also read about common issues those charged with DUI face by reviewing his Criminal Defense Blog.