Gardner OUI Lawyer
Gardner District Court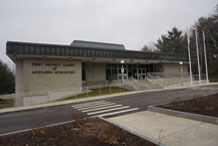 Gardner District Court address:
108 Matthews Street Gardner, MA 01440
Covered areas:
Gardner, Hubbardston, Petersham, Westminster
If you are charged with OUI in Gardner, it is important to speak with an attorney immediately as you need an experienced OUI Lawyer that can handle your case and get the best outcome for you.
Attorney DelSignore has assisted many clients fight their DUI/ OUI charge out of the Gardner district court. Some of the common concerns for those charged with a OUI are whether they will have to testify and how the court will prove you were actually operating the vehicle.
If you or a loved one are charged with an OUI or criminal offense in Gardner, Attorney DelSignore has an office conveniently located in Westborough at 1900 West Park Drive. You can call attorney DelSignore now at 781-686-5924 for a free consultation.
If I take my case to court, will I have to testify?
A defendant in a criminal case will be under no obligation to testify. This is a right given under the fifth amendment in the United States Constitution.
In fact, it is often a better strategy not to testify. It is often a better strategy as a defendant often has little to add to the defense, the prosecution may make the defendant nervous and this can imply guilt.
Attorney DelSignore had won many cases for his clients without them testifying at trial. The important thing is having an experienced OUI attorney represent you and have your voice be heard without you testifying.
What does the Commonwealth need to prove operation?
Another type of issues that sometimes arises for those charged with OUI in Gardner is regarding what the Commonwealth needs to prove to show operation. The fact that you operated a motor vehicle is one of the essential elements of an OUI offense.
When an officer has not witnessed a driver operating a vehicle, he or she will have to rely on an admission of driving from the suspect or other circumstantial evidence to prove the vehicle was in operation. An experienced OUI attorney can challenge these admissions as being in violation of your rights under Miranda. Even when an admission comes into evidence, it may not be enough to support a convictions as an admission of a suspect alone cannot support a conviction under Massachusetts law.
Contact Attorney DelSignore
Gardner OUI lawyer Attorney DelSignore offers free consultations and will personally answer all your questions.
Call Attorney DelSignore now at 508-455-4755 to discuss your case and answer your Gardner OUI questions.
Want to learn more about potential defenses to an OUI case?