Canton OUI Lawyer
If you have been arrested in Canton for an OUI, it is important that you understand the charge you are facing and the options available to you. Those facing an OUI charge by the Canton police should hire an OUI attorney who is familiar with the practices in the Stoughton District Court; all arrests by the Canton Police Department will be heard in Stoughton regardless of the charge.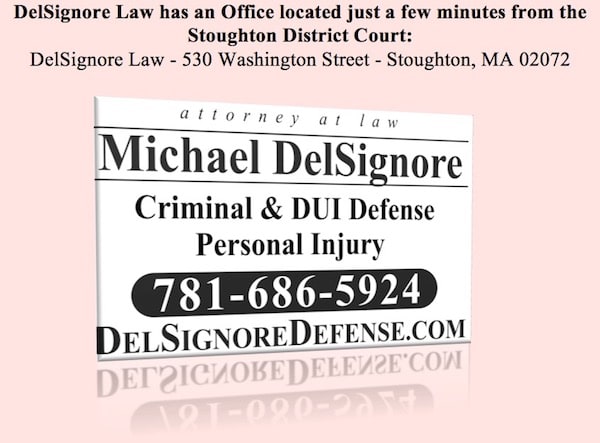 Booking videos as evidence
As a seasoned Massachusetts OUI lawyer, I have handled many cases in the Stoughton District Court that have originated out of Canton. You should know that Canton has video evidence in the booking room; this means that there is video of you at the police station that captured you on the night of your arrest.
You may have noticed the sign posted in the police department which reads "everything in the booking room is being audio and video taped." This is true, and often times we will work to obtain a copy of your booking video from the Canton Police. We first have to file a motion to preserve with the courts, and, if allowed, we will be able to get a copy.
Booking videos are valuable to your case, as often times they may exemplify that you were cooperative and polite following your arrest, and they can be used to challenge what the officer's claims in his or her police report. Especially useful, Canton has audio footage which often helps to show the jury you were not slurring your words as claimed.
Taking your case to trial
If your case proceeds to trial, the case will be transferred to the Dedham District Court, as Stoughton does not have a jury trial session. In Massachusetts, an OUI trial typically lasts no longer than 1 day. Bench trials (trials heard in front of a judge are shorter) than jury trials.

Whether or not you elect for a bench or a jury trial will be largely dependent upon the experience of your lawyer. At DelSignore Law, we are familiar with many of the judges, including the judges in both Stoughton and Dedham, so a bench trial may be your best option. However, dependent upon the severity of your charges, we may find it a better option to elect a jury trial. Again, this will be discussed with you as your trial date approaches, and largely depends upon the facts of your case.
The importance of hiring an OUI lawyer
If you have an upcoming court date due to an OUI arrest by the Canton police department, you should contact Attorney DelSignore today. It is important that you hire an attorney so that you understand all the defenses available to you and your case.
Individuals facing OUI charges in Canton are often overwhelmed by the legal terminology and may feel that they have no chance in arguing their case, however you should meet with an attorney before jumping to any hasty conclusions.
Attorney DelSignore offers free consultations and will gladly meet with you to discuss your case. Since Attorney DelSignore actually lives in Canton, appointments can be typically scheduled shortly after your call.
If you would like to schedule an office appointment, you can call 781-686-5924 or you can download Attorney DelSignores free book to learn more about Massachusetts OUI laws. To learn more about the court process after being charged with an OUI visit our website here.