Cambridge OUI Lawyer
Being arrested for an OUI in Cambridge, Belmont or Arlington means that it is important to your case that you hire an experienced OUI attorney who knows the town, the police officers and the Cambridge District court. Attorney Michael DelSignore has years of experience working Massachusetts courts, especially in Cambridge. Choosing him for representation is the right step towards winning your case.
What happens if it is your Second Offense?
If this is not your first offense, you may have to win the case to get back on the road. The Cahill chart to the right breaks down the penalties for a second offense. If you are two offenses are within 10 years, you will face a 3 year suspension for refusing a breath test. If your 2 offenses are outside of ten years, then you are eligible for the Cahill or second change first offender resolution. If you are charged with a second offense, the license consequences can be complicated and it is important to Call an experienced lawyer to ask the best way to handle the charge.
GENERAL OUI COURT PROCESS
After the arrest, you will have many questions. Attorney DelSignore can answer all of them. Click here for answers to frequently asked questions about OUI charges.
Below is a general overview of the court process for an OUI. For more information on the OUI court process, click here.
The decision to have your trial heard by a jury or a judge is mainly yours to make, however, Attorney DelSignore will advise which may be the better choice. His advice will largely depend on the judge vs the jury pool, in addition to the strength of your case.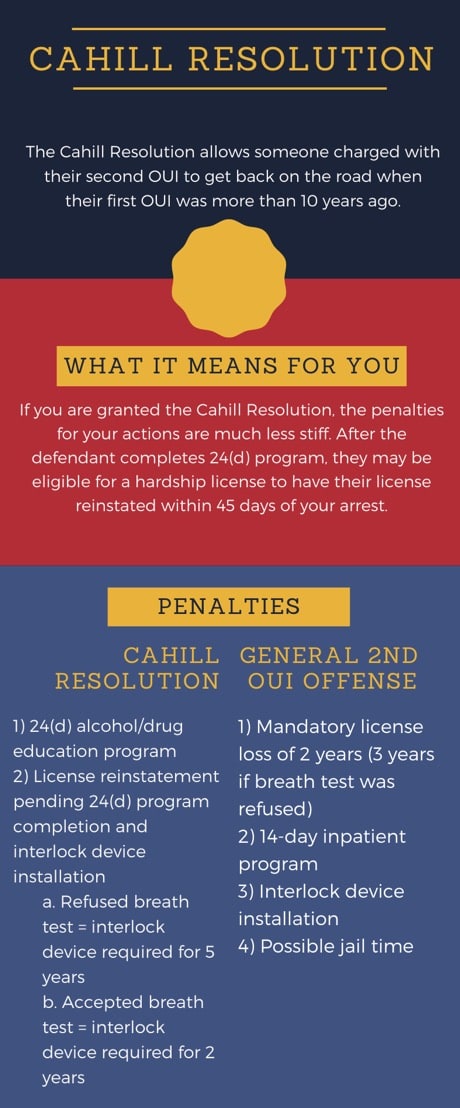 Cambridge District court is located at 4040 Mystic Valley Parkway Medford, MA 02155. There is parking located at this Courthouse but it is also accessible by public transportation.
IS THIS YOUR FIRST OUI OFFENSE?
While this sudden event may seem daunting, you should know that a first offense OUI arrest is among the most common arrests that police officers in Massachusetts make. Due to this, the penalties are much less severe. Bail is often not required after your arrest, contingent on your promise to return to the court for more hearings on your case.
HAVE YOU BEEN ARRESTED FOR AN OUI BEFORE?
If this is not your first OUI charge, the level of concern about winning your case may greatly increase. While a second offense is still winnable, third and fourth offenses are difficult cases to win because you are now considered a repeating offender. For this reason, it is in your best interest to consider admittance into an alcohol treatment program. This will go a long way with the judge or jurors by proving that you take the charges seriously and understand the negative public implications of driving while under the influence.
For all offenses greater than the first, bail will likely be required and jail time is a real possibility.
For more information on penalties of OUI charges, click here.
POSSIBLE DEFENSES TO AN OUI CHARGE
BASIS OF THE STOP

Legitimacy. What was the reason the officer pulled you over?

FAILURE OF FIELD SOBRIETY TESTS

Pre-existing medical conditions.

Road conditions. Ice, rain, snow, are all factors that may cause poor performance.

Traffic flow. High traffic flow may distract or cause you to lose balance quickly.

Your attire. Stiff pants, shoes with little or no grip or heels may all cause balance issues.

Inaccurate interpretation of instructions from the officer. There may have been a language barrier between you and the officer or a misinterpretation of what they're asking you to do.

Faulty administration of the test. There are certain standards that the officers must meet when administering the tests.

FAILURE OR BREATHALYZER TEST

Margin of error. Breathalyzer machines estimate your blood alcohol content and has a significant margin of error. The legal limit to drive is a BAC of .08, but Attorney DelSignore has won many cases where his client's BAC was estimated by a breathalyzer to be higher.
For additional defense strategies, click here.
CONTACT US
Call or Text Attorney DelSignore directly for a free consultation about your case at (781) 686-5924. It is never too early or late to call us; we are here to help you.
Our passion is to help those in need. Contact us today.