Bikes for Kids in Attleboro
Every summer, DelSignore Law runs a Bikes for kids' program in an effort to recognize deserving children in the Attleboro, Massachusetts area. Our goal is to award one child with a bicycle of their choice, along with a complimentary helmet and training wheels (if necessary!).
At DelSignore Law, we understand that engaging in an active lifestyle is important for children's physical and mental overall health and wellbeing. We hope our bike giveaway can get children outside and that they can enjoy their new bike over the summer!
Child Nomination & Winner Selection
Before we begin the contest, we will start by advertising the event on our social media channels and here on our website. By advertising, we hope family members, teachers, and community members will see our post and will be willing and able to nominate a child via our submission form. Our submission form requires an adults' contact information, the childs name, and a short explanation as to why the child is deserving.
Notably, there is no right or wrong answer. We encourage parents, family members, teachers, and others to nominate a child. No accomplishment or hardship a child has faced is too small! The winning child will be announced and the adult who nominated the child will be contacted. The bike is then awarded at a local bike shop.
BIKES FOR KIDS 2018
On August 4, 2018, we awarded Montana with a bicycle of her choice at Sirois Bike Shop in North Attleboro. Montana was selected based on her Mothers nomination submission; Montana's father passed away a few years ago and her mom reached out to us as Montana had been asking for a bike but she was unable to afford to buy her one.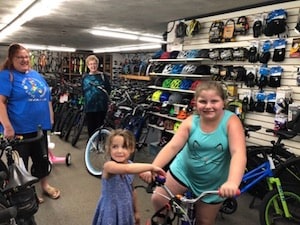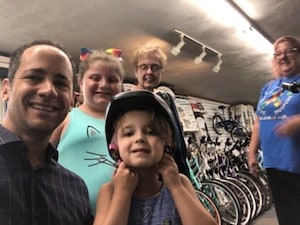 Check back periodically on our website and on our social media accounts for more information regarding upcoming bikes for kids' events!