Will There be Fingerprint Evidence Available in a Massachusetts Burglary or Robbery Case?
If you were arrested and were subsequently asked to submit finger prints, you should know that fingerprint evidence obtained by the local police is not always accurate. To understand how this evidence can be inaccurate, you should first understand fingerprints and how such evidence is analyzed be local, state, and federal agencies.
Generally, finger prints will be taken during the booking process and, in more serious cases, can be extracted from the scene of the crime itself.
How are my Fingerprints Analyzed?
Once your fingerprints are obtained by law enforcement, they will be sent to a fingerprint analyst for further investigation. The analysts utilize a computer program to search a number of local, state, and government databases that hold a massive number of fingerprints. The goal is to match the fingerprint up with fingerprints already present in the database, but is not always the end result.
Did you know? Analysts follow a 4-step process when determining finger prints: analysis, comparison, evaluation, and verification.
From there, comparisons are made by an expert trained in fingerprint examinations; if your fingerprints matched a set of prints already in a government database, they will be compared closely side-by-side. They are then thoroughly evaluated, and the analyst will make a final decision whether the prints are a match. If the prints are identified, they will then be verified by a second analyst as a way to support the original conclusions that they are in fact a match.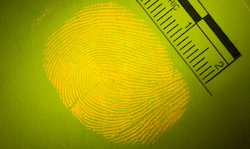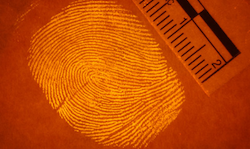 Is the fingerprint evidence always accurate?
As mentioned above, fingerprint evidence is not always accurate. This is because, at its core, fingerprint analysis is largely conducted by people. Other than the initial run through a fingerprint database, the comparison, evaluation and verification are all performed by a person, generally a person who works for a law enforcement agency or crime lab.
There is no scientific based way to analyze a set of fingerprints; there is no scientific testing that can demonstrate the reliability and accuracy of fingerprints. There is no uniform approach to determining whether fingerprints are a match.
For this reason, there may be many defenses available to your case. A skillful criminal defense attorney at DeSignore Law understands that fingerprint evidence is flawed and can be used to help win your case in court.
What are some of the defenses for my case if there is a fingerprint match?
A fingerprint is not conclusive evidence. At best, it proves that you were at the specific place of the crime but does not indicate when you were there. Simply put, it does not link you to the crime that occurred; it suggests that you may have been there at some point in time. For jurors listening to your case, this may be enough reasonable doubt in their mind that they have to find you not guilty.
The analyst did not have the proper certification to analyze your fingerprints. Regardless of who conducts the analysis, it is required that they have the proper training and certifications to do so. Many analysts are required to have a four-year college degree and to have additional training as well.
How the match is determined. Any given fingerprint can have nearly 175 patterns. Dependent upon who is analyzing your prints, they may only match a small number of the patterns before coming to the conclusion that there is a match between your fingerprints and printed already in the database. This leaves huge room for error.
Questions? Contact DelSignore Law Today.
Even if an analyst testifies in court that your fingerprints are a match, there are a number of defenses and strategies we can use to attack the prosecution's case. You should contact a lawyer at DelSignore Law early on in your case; we will work to tackle all of the issues that surround fingerprints and can go over the strengths and weaknesses in your case.
You can contact DelSignore Law by visiting our website or by calling 781-686-5924. We are happy to set up an appointment to meet with you at your earliest convenience.
If you have been charged with a crime based on fingerprint evidence, it is important you understand the court process and what you can expect as your case proceeds. Visit our website today to learn more about the court process in Massachusetts. While visiting our website, take a moment to read some of our criminal case results in courts across Massachusetts.