When is a Domestic Assault and Battery a Felony or Misdemeanor in Massachusetts?
A commonly asked question by those charged with domestic assault and battery in Massachusetts is whether the offense is a misdemeanor or felony. The difference between a misdemeanor and a felony is based on the severity of the crime, and how much time a person could serve in prison if convicted of the crime.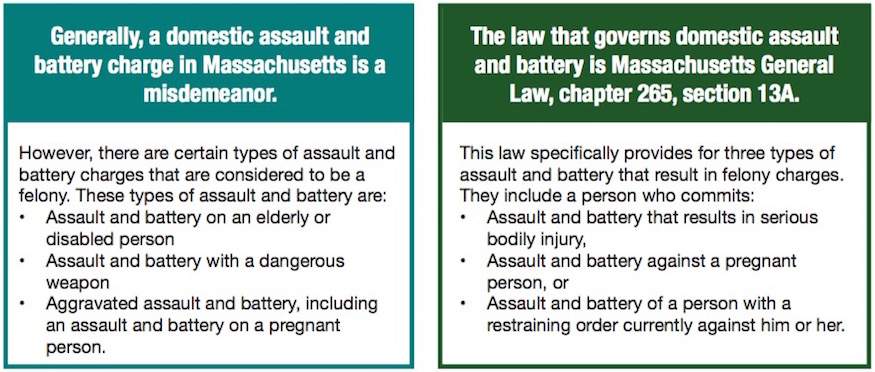 Defenses to a Felony Domestic Assault & Battery Charge
Sometimes a domestic assault and battery will be overcharged, meaning that a defense attorney may be able to have it reduced to a misdemeanor level by plea agreement or through a motion to dismiss from a felony to misdemeanor.
As mentioned in the table above, assault and battery with a dangerous weapon is considered a felony charge. But what does the court define as a dangerous weapon?
A dangerous weapon is anything that is used in a dangerous manner.
For example, using your foot to kick someone can be considered as use of a dangerous weapon because the foot is being used in a dangerous fashion. Another example is if someone is alleged to have been pushed into a doorway- the door can be considered a dangerous weapon. These examples exemplify how you can be overcharged, thus allowing an experienced defense attorney to pinpoint the issue and reduce the charge to a misdemeanor.
Attorney DelSignore Explains in this video whether domestic assault and battery is a felony or misdemeanor
What to do Next
A domestic assault and battery is a serious offense, regardless of whether it is charged as a misdemeanor or felony. Any conviction even if it is a plea of a CWOF would result in serious immigration consequences for any noncitizen.
If a person commits a misdemeanor, then he or she could spend up to 2.5 years in a house of correction or a jail or pay a fine of not more than $1000.00. Examples of misdemeanors include driving under the influence, trespassing, malicious destruction of property, and disorderly conduct.
If a person commits a felony, then he or she could serve over 2.5 years in a state prison. Examples of felonies include assault and battery with a dangerous weapon, larceny over $ 250.00, OUI 3rd offense and witness intimidation. If convicted of a felony, that person is subject to mandatory DNA testing.
If you have any questions about whether you should take a domestic assault and battery charge to trial, you can call Attorney DelSignore at 781-686-5924 or download his free book
Contesting Domestic Assault and Battery Charge in Massachusetts.