1st Amendment Challenges to Criminal Laws in Massachusetts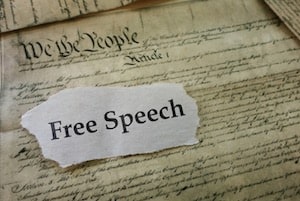 The First Amendment can be a defense in certain types of criminal protections. The First Amendment provides that no law shall be made to prohibit the establishment or free exercise of religion, the freedom of speech, freedom of the press, or the right of the people to peacefully protest.
The First Amendment protects freedom of speech, but the right to free speech is not unlimited and speech can be subject to criminal prosecution.
For a law to be upheld against a First Amendment challenge it must survive the highest level of scrutiny by a reviewing court and this is known as strict scrutiny. In order to survive strict scrutiny there must be a compelling governmental interest, narrowly tailored to achieve the goal, and the least restrictive way to achieve the goal.
For example, in Massachusetts it is a crime to threaten someone else even though a threat is speech, but it is not protected by the First Amendment because it threatens bodily harm against another person.
Criminal Convictions That may Implicate the 1st Amendment:
1. Hate Speech
Hate speech is only a crime if criminalized bias-motivated conduct accompanies the words. Examples of bias-motivated conduct includes threats, assault, and vandalism. Mere hateful thoughts or words are not enough. See Wisconsin v. Mitchell, 508 U.S. 476 (1993).
However, hate speech may be used as evidence in a criminal case as proof of a hate crime and may, in turn, lengthen the imposed sentence.
2. Harassment
However, harassing speech or conduct does not qualify as protected speech. In order for acts to qualify as harassment there must be a pattern of at least three separate events. See Commonwealth v. Welch, 444 Mass. 80 (2005).
3. Threat to Commit a Crime
In Massachusetts, G.L. c. 275 § 2 governs the offense of threats to commit a crime.
In order to be convicted of the crime of threats the Commonwealth must prove beyond a reasonable doubt:
The Defendant, expressed intent to injure the person or property, either now or in the future;
The Defendant intended that this threat be imposed on a particular person;
The threat could have reasonably convinced the person to whom the action was intended to fear that the defendant had both the intention and ability to carry out the threat.
The threat need not be directly conveyed to the victim nor does the threat need to be successfully communicated.
Punishment for a threat to commit a crime is up to $100, or imprisonment for not more then 6 months.
4. Revenge Porn
Revenge porn is when sexually explicit images or videos of individuals with or without permission/consent are distributed.
Currently, there is not a statute in Massachusetts criminalizing revenge porn.
However, in Commonwealth v. Salmons, the Massachusetts Appeals Court addressed the question of whether a defendant's illegally seized phone could be wiped before returned to him in order to erase sexual recordings of the victim, his ex-girlfriend. In this case, the Court suggested that the Massachusetts legislature address revenge porn directly.
However, under G.L. c. 272, § 107(b) it is illegal to non-consensual recording of sexually explicit images or recording of unsuspecting individuals.
5. Encouraging One to Commit Suicide
There have been two high profile cases of coercion of suicide in Massachusetts. However, in Mass. encouraging someone to commit suicide is not a statutory crime.
The first high profile case occurred in 2014 when Conrad Roy, who had demonstrated depressive symptoms, was encouraged to kill himself via text message by his girlfriend, Michelle Carter.
In 2019, a second case occurred at Boston College. Inyoung You is accused of encouraging her boyfriend, Alexander Urtula, to take his own life via text message. Ms. You has also been charged with involuntary manslaughter but has yet to face trial. Ms. You's lawyers argue that her case is different than that of Ms. Carter as they had text messages showing Ms. You pleaded with Mr. Urtula to stop.
In order to convict Ms. Carter, the prosecution charged her with involuntary manslaughter. In Massachusetts, for secure a conviction of involuntary manslaughter requires a finding that the defendant engaged in wanton and reckless conduct that directly led to the death of the victim. With a prosecutorial approach like this- the defense usually claims freedom of speech under the First Amendment and that words alone without action, cannot legally cause another person to commit suicide. Without a statutorily codified crime for coerced suicide, both the prosecution and the defense are left with little alternatives.
If you have a question about a First Amendment defense to a criminal charge, feel free to contact DelSignore Law by call or text at 781-686-5924.