Will My OUI Charge be Heard by a Judge or Jury?
The decision whether to elect a bench or jury trial is a critical decision in almost every case. All people charged with an OUI in Massachusetts, even as a first offender, have the right to have their case heard by a jury.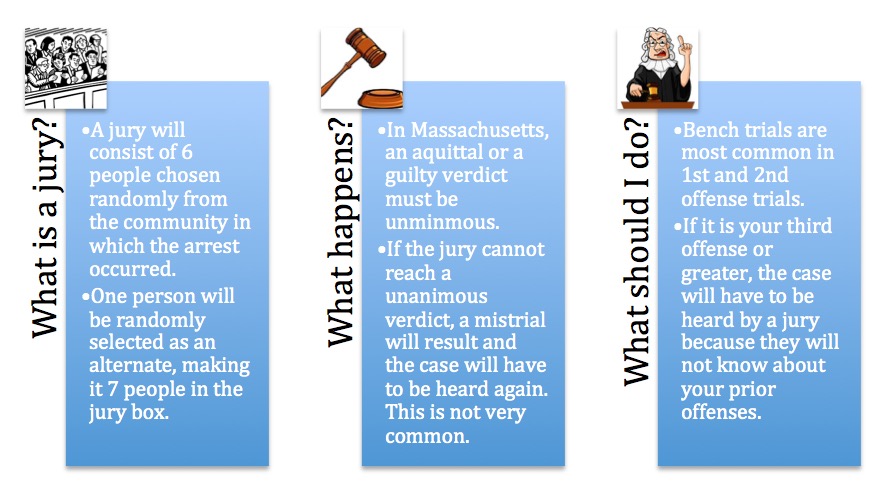 How should I decide on a bench trial or jury trial?
An advantage to a bench trial is that Attorney DelSignore can take advantage of his knowledge regarding tendencies of individual judges. In many cases, because of Attorney DelSignore's significant experience trying DUI cases, he will have an indication of how a judge may rule on your case given his prior experience with other similar cases.
It is not until the case is set down for trial that it is known who the trial judge is on any particular case. On the day of trial, a DUI attorney and the motorist will discuss the advantages and disadvantages of a jury and bench trial based largely on the attorney's experience with the particular judge, so that you can be assured that you are making the right decision.
To learn more about whether your case should proceed with a jury or bench trial, you can call Attorney DelSignore at 781-686-5924 or 508-455-4755. You can also read more about current issues impacting the decision of whether to elect a jury or bench trial, by reading his Massachusetts DUI Blog Articles which addressed the recent Special Report by the Boston Globe into Massachusetts OUI bench trials. When this special report was published, in addition to writing numerous blogs on the topic, Attorney DelSignore editorial was published in the Attleboro Sun Chronicle.