Stoughton Car Accident Lawyer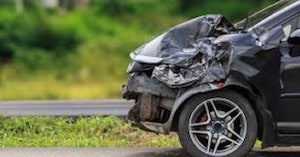 Attorney Michael DelSignore has been practicing law in Stoughton for over 15 years. He is well known trial lawyer and has an office right in Stoughton. When you get into a car accident, you want to hire a lawyer that is known in the local court and routinely takes cases to trial. The big television lawyers that you see; those lawyers do not go to court, trial and in most cases are not known in the local courts where your case will be heard. Attorney DelSignore is known for taking cases to trial and will fight the insurance company to get the maximum settlement for your case.
There are numerous accidents you can encounter when driving your car. You should contact a Stoughton Lawyer that is local to the community to be on your side.
These accidents include:
Car v. motorcycle accidents
Head on collisions
Rear end collision
Sideswipe
Drunk driving
Hit and run accidents
Distracted driving
Massachusetts is a no fault state which means your insurance company pays for up to $ 8000.00 in medical bills regardless of who is at fault. To collect money for pain and suffering from the other insurance company, a Massachusetts driver injured in an accident must have over $ 2000.00 in medical bills to reach the threshold to make a claim for pain and suffering.
Car accidents can cause serious injuries that can have lifelong consequences.
Injuries:
Broken bones
Brain injury
Neck and spinal injuries
Loss of limbs
Internal damage
Physical deformities
Death
Damages:
Medical expenses
Lost wages
Pain and suffering
Property damage
Emotional and mental suffering
Loss of potential earning
The minimum insurance limits in Massachusetts are as follows:
$20,000 per person/$40,000 per crash, property damage is $5,000 per crash and, bodily injury caused by an uninsured vehicle is $20,000 per person/$40,000 per crash. In many cases, a person's injuries can exceed the minimum insurance limits; in this case,
What to do after an accident?
When an accident in Massachusetts happens a person must file a claim with their insurance company for their PIP benefits.
A person also has the option to file a lawsuit outside of the no fault system which is where an attorney would be very beneficial to you. The types of suits that can arise are personal injury, wrongful death, product liability, and insurance is in bad faith. With the right experienced attorney you will be able to defend yourself in any car accident you are involved in.
Contact DelSignore Law office at (781) 686-5924. We are here to help you with all your legal needs.