Massachusetts OUI Lawyer Attorney Michael DelSignore represents clients throughout the Commonwealth of Massachusetts charged with drunk driving in Massachusetts. Is your driver's license critical to your employment, to keeping your family commitments and to your livelihood, if so, you are the type of client Attorney DelSignore routinely represents, individuals that cannot afford to be convicted of drunk driving in Massachusetts and must contest the case at trial.
If you were arrested for OUI in Massachusetts, you likely have many questions, such as:
Attorney DelSignore has answered these and many other questions for countless individuals charged with a Massachusetts OUI charge. This website is designed to answer your questions; if you would like to speak personally to Attorney DelSignore. You may call him at any time.
Attorney Michael DelSignore has a track record of successfully defending drivers charged with Drunk Driving in Massachusetts. Attorney DelSignore has won cases with failed field sobriety test results, claims of erratic driving and failed breathalyzer test results.
Not Guilty Fourth Offense OUI, breathalyzer .14, admission to drinking a few glasses of wine and taking medication.
Not Guilty, 1st offense, police officer claimed that the defendant drove over the yellow line and failed field sobriety tests.
Second Offense DUI dismissed as court grants motion to suppress as the defendant's Constitutional Rights were violated by the officer's seizure of the defendant. Defendant admitted to drinking 7-8 beers; Result case dismissed.
These results are just a few of the success stories that Attorney DelSignore has had as a Massachusetts OUI lawyer . In addition to a track record of success, Attorney DelSignore is extremely easy to reach and is dedicated to defending his clients aggressively:
From former client testimonial:
A probation officer with 27 years experience informed me that he never seen an attorney do such a great job. Besides his tremendous talents in the court room Attorney Delsignore is extremely knowledgeable of the law, jury selection process, and the courts he works at. My case lasted almost 2 years. At one point I gave up and decided to plead guilty. Mike reminded me of everything I could lose and advised me to keep fighting. He is a genuine individual, who is concerned for the best interests of his clients and takes great pride in his reputation. Recommending Attorney Delsignore as your attorney would be an understatement. You want him to represent you!
Along with numerous satisfied clients, Attorney DelSignore has been recognized as a leading Massachusetts DUI attorney:
In the News:
Quoted in Lawyers USA Article on breathalyzer testing;
Quoted by the Boston Herald on Miranda warnings
Wrote Article for Attleboro Sun Chronicle on Boston Globe OUI Series
AVVO 10 out of 10 Rating
Attorney DelSignore also represents clients charged in MA with:
Charged with a motor vehicle offense , including negligent operation and leaving the scene of property damage or personal injury.
Sex offenses, indecent assault and battery
Felony and misdemeanor offenses
If you have been accused of committing a criminal offense, it's imperative that you contact an experienced, resourceful, and aggressive defense attorney to protect you throughout the legal process. Massachusetts criminal defense lawyer Michael DelSignore has spent years defending clients against felony and misdemeanor charges throughout Massachusetts. Call now at 508-455-4755 or 781-686-5924 for a free consultation.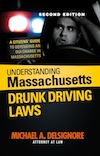 Type of Police Video in an OUI arrest

Attorney DelSignore Published First Chapter for Witness Preparation and Examination for DUI Proceedings.

Attorney DelSignore Published Chapter in National DUI Book, "Understand the Prosecutor's Perspective to Build a DUI Defense Strategy"
---
Attorney DelSignore listed in New England Super Lawyers Magazine, Rising Star for DUI Defense
---
---