Michael DelSignore represents clients throughout the Commonwealth of Massachusetts charged with drunk driving in Massachusetts.
Is your driver's license critical to your employment? Managing family commitments? Your livelihood?
You are not alone. Attorney DelSignore routinely represents individuals that cannot afford to be convicted of drunk driving in and must contest the case at trial.
Frequently Asked Questions about a DUI/OUI Charge
Attorney DelSignore has answered these and many other questions for countless individuals.
This website is designed to answer your questions; speak with Attorney Delsignore personally by contacting him at anytime.
Attorney DelSignore has a track record of successfully defending drivers charged with Drunk Driving. Attorney DelSignore has won cases with failed field sobriety tests, claims of erratic driving and failed breathalyzer test results.
These are just a few of the success stories that Attorney DelSignore has had as a Massachusetts OUI lawyer:
| | | |
| --- | --- | --- |
| EXAMPLE OFFENSE | CASE DETAILS | RESULTS |
| 4th Offense OUI | Breathalyzer .14, admission to drinking a few glasses of wine and taking medication. | NOT GUILTY |
| 1st Offense DUI | Police officer claimed that the defendant drove over the yellow line and failed field sobriety tests | NOT GUILTY |
| 2nd Offense DUI | Defendant admitted to drinking 7-8 beers. Constitutional Rights were violated by the officer's seizure of the defendant and court granted motion to suppress. | CHARGE DISMISSED |
A probation officer with 27 years experience informed me that he never seen an attorney do such a great job.
"Attorney DelSignore is extremely knowledgeable of the law, jury selection process, and the courts he works at. My case lasted almost 2 years. At one point I gave up and decided to plead guilty. Mike reminded me of everything I could lose and advised me to keep fighting. Recommending Attorney Delsignore as your attorney would be an understatement. You want him to represent you!"
In the News and OUI Publications:
Along with numerous satisfied clients, Attorney DelSignore has been recognized as a leading Massachusetts DUI attorney:
Quoted in Lawyers USA Article on breathalyzer testing;
Quoted by the Boston Herald on Miranda warnings
Wrote Article for Attleboro Sun Chronicle on Boston Globe OUI Series
AVVO 10 out of 10 Rating
Common OUI Questions Answers in These Videos:
Attorney DelSignore also represents clients charged in
Massachusetts with crimes of:
Domestic assault and Battery
Drug offenses
Larceny
If you have been accused of committing a criminal offense, it is imperative that you contact an experienced, resourceful, and aggressive defense attorney to protect you throughout the legal process. Michael DelSignore has spent years defending clients against felony and misdemeanor charges throughout Massachusetts. Call now at 508-455-4755 or 781-686-5924 for a free consultation.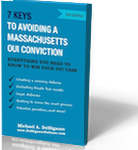 Michael Delsignore Wrote the Books on Massachusetts OUI Defense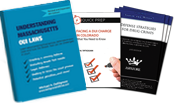 Available at: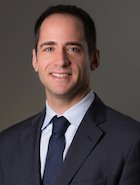 Most Recent OUI wins
Client refused a breath test. At the RMV hearing, Attorney DelSignore convinced the hearing officer that the refusal suspension was in violation of Massachusetts OUI Laws. The Hearing officer agreed and vacated the refusal suspension restoring the client's license prior to six months.
Client charged with a First Offense OUI with a breath test result at the legal limit of .08. Attorney DelSignore was able to convince the prosecutor to dismiss the OUI offense in exchange for a plea on the charge of negligent operation.
Client charged with Second Offense OUI after being stopped at a Roadblock in Taunton. After trial, the client was found not guilty and avoided the two year license loss for a second offense OUI.
Client charged with OUI Drugs and reckless operation of a motor vehicle. After motions were heard and several conferences with the prosecutor, the OUI drugs charge was dismissed and the client accepted a plea to the reckless operation charge.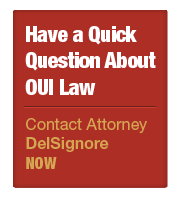 Publications and Awards

"Facing an OUI Charge In Massachusetts - What You Need to Know"

Attorney DelSignore Published First Chapter for Witness Preparation and Examination for DUI Proceedings.

Attorney DelSignore Published Chapter in National DUI Book, "Understand the Prosecutor's Perspective to Build a DUI Defense Strategy"