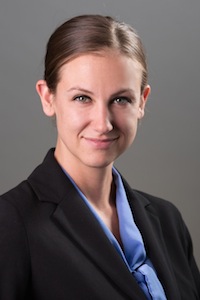 Julie Gaudreau
Massachusetts Criminal Defense Lawyer
Attorney Julie Gaudreau is an associate attorney at DelSignore Law. Her practice areas include OUI Defense, criminal defense, including domestic assault and battery matters, drug crimes and handling clerk magistrate hearings as well as matters before the RMV and Board of Appeals.
Some of Attorney Gaudreau recent successful cases results include:
March 22, 2017 – OUI first offense dismissed- Client was charged with first offense OUI in Ayer District Court. Client had driven off the road. When police arrived, they observed that he had red bloodshot glossy eyes, slurred speech and emitted a strong odor of alcohol. The officer asked him to perform the one leg stand nine step walk and turn and the alphabet test. The officer wrote in his report that the client failed all three tests and had a .19 breath test. Attorney Gaudreau argued that the client qualified for the Valor Act as a veteran charged with his first criminal offense. The matter was dismissed after the client completed VA counseling.
March 20, 2017 – OUI Second Offense in Worcester District Court- Not Guilty after Jury Trial – Client was observed making several marked lanes violations in Northborough. Officer testified that client was slow to pull over and had that he had red bloodshot glassy eyes, slurred speech, smelled of alcohol and admitted to drinking earlier. The officer testified that he failed three field sobriety tests. On cross examination Attorney Gaudreau was able to show that the client's performance on the tests showed someone who was alert and cooperative. She also introduced the booking video which showed that the client's balance was good and that his speech was not slurred.
February 3, 2017 – Shoplifting over $250 complaint not issued at Worcester District Court- Client was issued a summons to appear before the Clerk Magistrate on the charge of shoplifting over $250.00 worth of items at Target. Attorney Gaudreau was able to resolve the matter with a representative for Target and the complaint was withdrawn. Client's criminal record remains clean.
January 24, 2017 - Hardship granted for driver with lifetime license loss. The driver had his license revoked for life after being convicted of five operating under the influence charges and a driving after license suspension. The RMV told the driver that he was ineligible for a hardship license. Attorney Gaudreau brought the matter before the Board of Appeals and was able to get the driver a hardship license with the interlock device.
January 19, 2017- OUI and Reckless Operation complaint not issued at New Bedford District Court. The client was involved in a one car motor vehicle accident and the arresting officer observed signs that the client was under the influence of alcohol. The client received a notice to appear before the Clerk Magistrate in New Bedford. After a hearing where the client was represented by Attorney Gaudreau, the complaint did not issue and the client has no criminal record.
Client charged with 1st Offense OUI found not guilty, after allegedly having slurred speech, bloodshot eyes, strong odor of alcohol and failing field sobriety tests out of the Marlborough District Court.
Successfully arguing before the district court to overturn 3 year breath test refusal suspension.
OUI offense with .16 breath test client had case dismissed entirely if he avoids further difficulty with the law.
Client charged with larceny over $250 in Lowell received six months pretrial probation, after six months the charges will be dismissed.
Domestic assault and battery in Attleboro District Court dismissed.
Clerk magistrate hearing in Westborough District Court for possession of drugs with intent to distribute. After argument clerk agreed to hold open for six months. After six months and three clean drug tests complaint was not issued and client has a clean criminal record.
Clerk magistrate hearing in Stoughton District Court for domestic assault and battery and strangulation, after nine months if the client does not break any new laws charges will be dismissed and he will not have a criminal record.
Appeared before the Board of Appeals and successfully argued to have client's license reinstated after an immediate threat suspension.
Successfully argued for a client to receive a Valor Act disposition in Wareham District Court. Client was charged with an OUI and received pretrial probation.
Client charged with domestic assault and battery and assault and battery on a police officer in Attleboro District Court, both charges dismissed.
Attorney Julie Gaudreau is a graduate of Suffolk University Law School where she received the award for Distinguished Oral Advocate and was on the Dean's List each semester. Additionally, she is a member of the National College of DUI Defense.
Julie has lived in Plymouth, Massachusetts for over 20 years. She enjoys walking Plymouth Long Beach, playing tennis and spending time with her son and her Samoyed.
---
Julie Gaudreau with Dean Strang and Jerry Buting at the National DUI College Summer Session from Making of a Murder.