Attleboro DUI Lawyer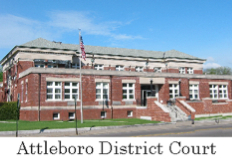 First Offense Massachusetts OUI charges are the most common type of drunk driving case in Attleboro District Court. First–time DUI charges often make strong cases and a not guilty verdict is possible at trial.
As an Attleboro drunk driving defense lawyer, Attorney DelSignore can work on your behalf to prepare your case for trial in order to obtain a not guilty verdict on your OUI charge. Attorney DelSignore understands how officers are suppose to administer field sobriety tests and can use that knowledge to help discredit the officer's opinion that you failed these tests. He presents different charts and diagrams in some cases to help explain to the jury the inaccuracies behind these tests and show that the officer did not score the test properly or fairly.
At one trial, the jury was presented with a chart showing all of the things that the motorist did right throughout the encounter while during another case a diagram was used showing the different levels of proof in the court to emphasize the high standard of proof required for an OUI conviction, proof beyond a reasonable doubt.
Attorney DelSignore also handles:
Second, Third and Fourth Offense OUI charges;
OUI offenses for those who have prior convictions in another state.
OUI charges for those having out-of-state licenses or a Rhode Island license.
While there are different penalties associated with a second or third offense, the trial preparation is the same regardless of offense level. A second offense or higher will be viewed differently by a judge ruling on evidentiary motions or in terms of whether the case can proceed by way of a bench trial.
Location of the Attleboro District Court:
Attleboro District Court is located at 88 North Main Street, Attleboro, Massachusetts. When you enter the Court, the First Session court room is where all arraignments and pretrial hearings are heard.
WHAT HAPPENS IN ATTLEBORO COURT: If you are in court for the First time for an arraignment, it is important you check into the probation department before court beginnings so that your case is called. The probation department in the Attleboro District Court is located directly across from the First Session Court room. Attleboro District Court handles arrests from the following towns:
Mansfield
Norton
North Attleboro
Attleboro OUI lawyer, Michael DelSignore is an aggressive and experienced attorney who represents clients facing drunk driving in the Attleboro area. It is a court Attorney DelSignore is well known in and has appeared frequently before the judges likely to hear your case at each of the stages from arraignment to trial.
You can call Attorney DelSignore at 781-686-5924 or 508-455-4755 to arrange for an office appointment free of charge or download his free book on Understanding Massachusetts DUI laws. His office is within walking distance from the Court at 7 North Main Street, Suite 219A in Attleboro.
Massachusetts OUI lawyer explains the steps in fighting an OUI charge
Myth: "Alcohol on the breath" is a reliable sign of alcohol consumption and intoxication.
Fact: Alcohol is actually odorless.... it has no smell. What people perceive as alcohol on the breath is actually the odor of things commonly found in alcoholic beverages. The breath of a person who drinks a non-alcoholic beer will smell the same as that of a person who has consumed an alcoholic beer.
Research using experienced law enforcement officers has found that odor strength estimates are unrelated to blood alcohol concentration (BAC), which ranged in the experiment from zero to .13 (almost twice the legal limit for driving). The estimates made by the officers were no more accurate than random guesses. The researchers concluded that estimates of alcohol on the breath are unreliable.
Attleboro Criminal Defense Online Resources
Attleboro District Court
Massachusetts Superior Court
Attleboro Police Department
Sheriff's Office Serving Attleboro
Drug Rehab in Attleboro
Massachusetts Registry of Motor Vehicles
Attleboro RMV
City of Attleboro
Attleboro, Massachusetts
Map of Attleboro, MA